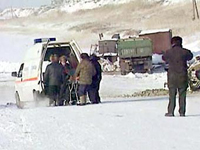 Two persons have drowned after a bus plunged through ice covering on the Big Yenisei, the local department of the Emergency Situations Ministry reports today. All the other 20 passengers of the privately-owned bus have been rescued. The accident took place at 4.40 p.m. local time (9.40 GMT) near the village of Kara-Khaak 20 km to the north of Kyzyl when the bus crashed through the 55-cm thick ice. When the rescue team arrived at the site, 10 passengers remained on the roof of the bus. The ice at the 130-meter crossing was thought to be able to withhold up to 10 tons, and authorities had sanctioned vehicles to cross the river.
An inquiry has been opened into the accident.


---
© 2001-2023, "Tuva-Online" News & Information Agency (
www.tuvaonline.ru
).
Republishing, redistributing or syndicating without direct reference to Tuva-Online is
prohibited