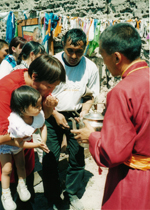 Ustuu-Khuree festival of live music, one of the most popular events in Siberia, is to be held this year in Chadan in spite of all the financial problems. The festival which has been for the last years held rather 'in spite of' than 'thanks to' is considered an underground event. It attracts musicians of all genres and directions. The festival was usually attached to Dalai-Lama's birthday and its dates coincided with it, but this year it will start somewhat earlier.
The arrival date is June, 27, during which a festival camp will be built up by the participants and the guests. Official opening is scheduled on June, 28, and will start with a morning parade along the Chadan streets. June, 29, a contest program will be launched with horse-races and khuresh wrestle as a break in it. On the 30th of June the winners will be announced at a gala-concert. On the next morning all those eager for adventures will set off for Sut-Khol lake. A hard trip. Not for everyone. On the 3d of July the adventurers will get back to Kyzyl. And on the next day gala-performance of all the prize-winners of the festival will take place in the Tuvan capital.
To offer sponsorship or ask qustions one can contact organizing committee via email: ustuhure@rambler.ru


---
© 2001-2019, "Tuva-Online" News & Information Agency (
www.tuvaonline.ru
).
Republishing, redistributing or syndicating without direct reference to Tuva-Online is
prohibited