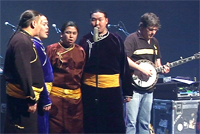 Alash just wrapped up a tour of the United States that took them through Texas, the Midwest, and the Northeast. Their concerts were attended by a combination of amazed new fans and enthusiastic returning fans, some of whom traveled great distances and braved snow storms for the opportunity to hear Alash. Concert-goers were totally absorbed in the music commenting, "I could listen all night," and "I felt myself traveling back to the times of the ancestors." The musicians have such a good rapport with their audience that the crowd at Barbes in Brooklyn burst into a chorus of "Happy Birthday" when Sean Quirk mentioned that it was Ayan-ool Sam's birthday.
This tour was also very special because Alash made several joint appearances with America's premier banjo player Bela Fleck, and his group the Flecktones. The Flecktones were promoting their new holiday CD, "Jingle All the Way," which features Alash as guest artists. The CD has been nominated for two Grammy awards, and it is at the top of the jazz charts. The collaboration includes Alash's unique version of the popular American Christmas song "Jingle Bells," in which they throat-sing the melody, and also sing lyrics in Tuvan, translating "Jingle Bells" as Shyngyrash. The Flecktones' audiences, most of whom had never heard throat singing before, went wild for Alash. After an appearance at the legendary jazz club the Blue Note in New York City, three smiling young men ran up to Ayan-ool Sam and Nachyn Choodu, hugged them, and broke into song, "Shyngyrash, Shyngyrash."
During the tour, Alash also found time to conduct workshops to introduce American school children to Tuvan music and culture. Sharing their rich Tuvan heritage with youngsters is an important part of their mission.
The musicians of Alash are Nachyn Choodu, Bady-Dorzhu Ondar, Ayan-ool Sam, and Ayan Shirizhik. Sean Quirk is their interpreter and manager. Their website is www.alashensemble.com.
The musicians of the Flecktones are Bela Fleck, Victor Wooten, Jeff Coffin, and Roy "Futureman" Wooten. Their website is www.flecktones.com.