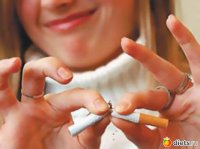 Tuva will join anti-tobacco action which will take place in the republic at the initiative of Ministry of health care of RF on the International day without tobacco - 31 May. The Ministry of health care of RT acts as the organizer of the action in the republic, preparing a plan for the event. On this day, prophylactic booklets and leaflets will be distributed in Tuvan capital, demonstration of specimens of anti-tobacco theme from the health and hygiene museum of the center for preventative medical care. Volunteer schoolchildren will perform a mini-action "Break a cigarette for a candy".
As announced by the organizing committee of the action, educational institutions of Tuva will organize readings and discussions with the aim of promoting a healthy way of life and agitation for quitting smoking. In the framework of this action, mass sports and cultural events with participation of young people, social workers of the republican center of psychological-medical-social association "Saizyral" and Young Guards of "United Russia" are planned, with Youth administration of Tuva, physicians, Ministry of education and Ministry for youth affairs and sport. "Young Guard of United Russia" is planning to set up pickets on the day of this action in busy areas of the city reading "We are against smoking! We want to LIVE!"
---
© 2001-2022, "Tuva-Online" News & Information Agency (
www.tuvaonline.ru
).
Republishing, redistributing or syndicating without direct reference to Tuva-Online is
prohibited