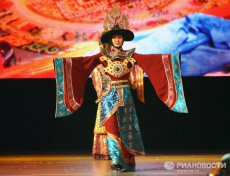 It is hard to explain what this sound resembles. Certainly, it is like a cloud of falling splashes: if each of the splashes had its own voice, it would probably sound like this. Or the cries of a flock of tiny birds. Or the call of some overwhelming feeling: sweetly alarming, disturbing. Or…and then the sound entered the workshop. It entered and shattered the space.
The girls brought in a dress. Silk, dark blue, embroidered with white beads, and…jingle-bells. And that is what sang in many voices with every movement. Delicate, tremulous.
Dongak's living dresses
This living dress is a part of Vyacheslav Dongak's designer collection "Kan-Kys", made by the craftswomen of "Ovaadai" workshop of the theatre of dance and costume "Edegei". Intentionally, the sound of the jingle-bells represents the sound of ringing armor of the glorious girl-warrior, who, according to local legends, was so strong and skilled, that she could shoot better than any man, ride better, and fought with men on equal terms and even better.
The craftswomen do not tell how much such a dress weighs, we don't know, they say. But the suitcases they use to take the costumes of this collection to show around the cities and countries have to be discarded after 4 or 5 trips: the handles fall off.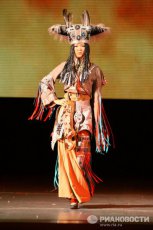 The main dress of this collection "Shamaness Kuu" has its own history as well.
- When the Year of Tourism was declared, we toured 11 European countries with our Tuvan presentation", Kima Dongak tells us; she is at the same time the general director of OOO "Ovaadai", leader of theatre "Edegei", and the wife of Tuvan couturier. - After Finland, we came to Poland. First there was an exhibition of our costumes and traditional musical instruments. And suddenly the director of Warsaw museum asked us: please give us the costume of the soloist, the chief shamaness. I was surprised: But why? He would not explain, just went on insisting, please give it to us, we will buy four instruments from you for a good price, just please give us the shamaness costume. Well, what could we do? We needed the money, so we did what he asked. And only later, after they got the shaman costume, the explanation came. It turned out that there was a legend around the Warsaw museum, which had only very scanty exhibits - very little survived the bombings of the war. Supposedly, the Warsaw museum would be reborn only after acquiring a costume of a shamaness. So, now our costume is one of their exhibits. That was in 2007. And, you know, afterwards we somehow could not recreate that costume: it became offended at us. We spent a long time making new sketches. I brought materials from practically everywhere: Turkey, Mongolia, Moscow - it did not work. We just could not make the costume. And then, only recently, I brought material from Tibet - the stones and elements for the costume - and suddenly it worked right away. The costume was reborn. I even, believe it or not, apologized to it. I kept explaining: it had to be done, and that is what happened. Forgive me, please.
You can't produce quality cheaply
In ten years, the workshop created 15 collections. Dongak and his wife made them at first in various ateliers, it was torture. It is difficult to work with somebody else's craftsmen: you can't show them how to sew, and there are problems even with the fabrics and with rehearsals. Every craftsperson has his own "signature". And the customer - Vyacheslav Dongak - is very picky. It is very hard to satisfy him. Then we figured it out: we had to open our own shop, hire our own seamstresses and lead them through the whole process, even to participate in it.
Success came with the first collection. "Motive of Asia", that was what it was called, was welcomed with enthusiasm in Moscow. It was 1999, a contest of the High Fashion of Folk Costumes. This collection was recognized as the discovery of the contest.
We felt encouraged, got a surge of confidence.
Everything that is made today at the "Ovaadai" workshop is high quality. The materials we use are only of the best and most expensive kind. We bring them from all the countries where we visit with tours and shows. Very complicated costumes, every stitch is confident and clear. Costumes in national style are made to European standards. After all, professionals evaluate each other at the shows, checking the quality of the work. You can't hide any deficiencies. So we work scrupulously on every stitch. Kima Chozarovna shows me the precision sewing work of an elegant folk hat: embroidered seam precise to one millimeter:
- That is how complicated it is. It, of course, does not have to be made this way, but we can now pack the hat in a suitcase without worrying about it during the whole trip. Then we simply unpack it - and the item resumes its correct form. But if you take a mass-produced object, they use gelatin: if you fold one of them, that's it, you might as well throw it out. We respect all the canons, the hat even has a button on top. It is for beauty, and, most of all, this is how it was supposed to look. Our products are exclusive. It is serious work, that is why our atelier takes practically no private orders. There are, of course, those who do not spare money for a quality item, but there is a waiting list and they wait for months for their turn. There is a great workload on our seamstresses. They make the collections and sew for the "Edegei" actors. Now they are doing magic over a scarlet jacket for the leader of the program of greetings of GTRK "Tyva". It is convenient, with zippers, so that she can put it on seconds. Bright. The leader's hands will be in focus, so there is special emphasis on the sleeves: they are richly decorated, with folds and embroidery.
A few days goes into the costume for Eduard Ondar: he will represent Tuva in Buryatia at a contest of Grandfather Frosts. The sketch for the Tuvan Grandfather Frost is already all laid out on the cutting table.
There are only five seamstresses working together with the general director Kima Dongak, who is herself a master of all trades. The senior, who is the director of "Ovaadai" atelier, is Ayana Saaya. The collective is friendly, they work together well; and how else, sometimes they have to work together for many days in a row, sometimes even nights. All the girls - seamstresses are graduates of the Kyzyl professional institute No.11. They took their practice there and stayed on. The best of the best, conscientious and meticulous.
Sewing can't tolerate hurried approach. Ayana Saaya, who received the title of a national craftswoman last year, speaks of her work like about a beloved person: with excitement. It turned out that she is an agronomist by profession. She laughs: she wanted her child to be accepted for "Edegei", and she fell in herself. She is in it up to her ears. At first she was to take up an administrative position, but everything was so thoroughly entangled in this theatrical creative world, that she soon changed her qualifications to a tailor. And she is happy. And before "Edegei", she never even dreamed that she would go and sit behind a sewing machine.
- Back then, every group tried to produce a new dance every month, - Ayana Borisovna tells us. - And for that, 16 new stage costumes had to be sewn every month. Vyacheslav Oktyabrovich would quickly make the sketches, and Kima Chozarovna would go on trips to buy the fabrics. We worked day and night. The seamstresses worked during the day. Vyacheslav Oktyabrovich lectured, Kima Chozarovna took care of all the organizational work, and I had my own work. And after seven-eight hours, we started other kind of work. Vyacheslav Oktyabrovich sewed, Kima Chozarovna sewed, I sewed. It was impossible to sit and do something else by yourself. Here you become a transformer. So I got into the seamstress work.
Mystery of birth
Several words about the collections. Basically, they are made to the motifs of Tuvan legends: "Mandala", "Por-Bazhyn". "Uriangkhai", "Scythian princesses"… each of them is born in its own way. One (6 - 8 costumes) can be made by the girls in a week. Another collection may take years. That is, for example, what happened with "Scythian princesses". They even put up a portrait of a beautiful Scythian queen on the wall for productivity and inspiration. And it took a long time anyway.
The dress with the jingle-bells from the 'Kan-Kys" collection is not the only one with a soul. The seamstress-girls say that they do not simply sew, they bring the fabrics to life. Today it is only a piece of beautiful material, but tomorrow it is a lovely creature. And it is not surprising that the performers assiduously follow the fate of each costume after it is born. It is not just any model that can fully demonstrate the power and character of a costume, and for that reason they change the models after they identify the one who can best bring the costume to life, to communicate all its power and beauty.
- All our costumes bring success, - believes Kima Dongak. - We tremble over each collection. When we begin to sew a collection, a special atmosphere arises. The seamstresses become capricious, kids are excited - we have to keep trying the costumes on, every model wants to be in the collection…
Direction - to the Fashion Palace
A special aspect of Dongak shows is in their theatricality. When "Shamaness Kuu" was shown in Moscow, they selected and composed suitable music, put shaman masks on the actors. Drums, ritual dances. The stage was immersed in mist…the spectators later admitted that they had goose pimples running on their skin. And more. "Edegei" models do not simply walk. As they meet, they look in each other's eyes, slow down as if they were greeting each other. A new emotional attitude towards what is going on is born in the audience.
And that is how it goes with every collection: its own theme, emotional fulfillment, musical accompaniment and movement. A complete artistic production. Mini-show. As Kima Dongak explains, may have worked in fashion, but specifically Asian fashion was first presented by Vyacheslav Dongak.
In the foyer of the building which houses the "Edegei", the administration and the sewing atelier, there are shelves packed with chalices, cups, statuettes and medals - awards presented to the theatre of dance and costume over the ten years of its existence.
- We do not get invited to contests anymore, - laughs Kima Dongak, - because we have won everything there is. There is nothing to give us anymore. The Chinese, for example, have been simply inviting us into the jury of their international contest of designers of folk costumes. We give sample performances at the opening and closing of the contests.
Now the leader of "Edegei" has a new dream: to establish a fashion palace in Kyzyl. As she believes, the accumulated experience is immense. They have traveled enough, and convinced everybody what they can do. It is quite possible that now the others can come to the shows here, to Tuva. And for that, of course, we need a base. A spacious building, a hall with a stage and lighting, a museum of fashion, where they could present all the collections - to inspire future designers who will definitely show up in Tuva.
- We'll do it, I know, - says the leader. - It will come to be. Because everything that we dream of turns into reality. We have not been working that long, only 10 years. It is a very short time to create, to build a fashion palace. More so because we have no support from the government. We do everything ourselves. All our work - ensemble "Edegei" productions, our collections, work in the atelier, it is all done for development of our culture, to create a positive image of Tuva in the whole world. These are loud words, but it is all true. Unfortunately, we have many opponents. Especially at the beginning they were criticizing us, foaming at the mouth. They said: just what is Dongak doing? Falsifying the national costume! And this is what I always tell them: this is what it is, our traditional national costume! It has not disappeared. It is history. But things do not stand still for centuries. Even a national costume should develop. And that is what we are doing today. We are transforming and developing the costume. If you are such a good Tuvan that you want to wear only what our ancestors wore a hundred years ago, then why do you live in a furnished apartment and drive a car? Go live in a yurt and ride a horse. As our consciousness develops, so should our costumes evolve.
The "Edegei" lives by the future. They are already quietly beginning to prepare a program which they will take to the Sochi Olympics in 2014.
- Each of our days is so saturated , that we feel in the evening that what we were doing in the morning was yesterday, - tells us Ayana Borisovna, while cutting some detail of a future costume. The girls are also immersed in work: one works with scissors, another concentrates on stitching with a sewing machine.
- Our Kima Chozarovna is already working somewhere between 2013 and 2014. But us, the seamstresses, are still in 2012, but somewhere in September - October. That is our time.