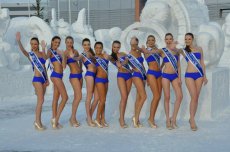 One of the most extreme actions of the World Snow Forum - 2013, taking place in Novosibirsk, has finished. Participants in the beauty contest "Miss Snow World", one of the cultural components of the forum, were involved in a photo-session on the background of the snow sculpture compositions created during the International championship of Snow Sculpture specially for decoration of the current event.
A row of snow symbols of the World Olympics showed up by the Expo-Center building on the eve before the opening of the Forum.
Masters from Tuva Belek Kuzhuget and Syldys Omak, according to lottery, created the composition with the White teddy Bear - the symbol of the upcoming Olympics in Sochi.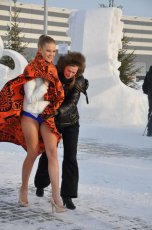 And even though the Tuvan artists did not win a prize, their sculpture took a honorable place in this same unusual Olympic row. And his smile, without a doubt, warmed the semi-naked girls who took the risk to prove that snow not only helps the most beautiful women of Siberia to preserve their beauty, but favorably emphasizes their strong character as well.
Participants in the "Miss Snow World" contest from Altai, Yakutia, Tatarstan, Bashkiria, several regions of Siberia and from Novosibirsk were photographed in swimsuits, and the sessions was limited to 15 seconds each. The background used for the majority of contestants was a snow composition created by Moldavian sculptors, the winner of the Championship.
Temperatures in the Western Siberia capital dropped to -20 degrees centigrade on the photo-shoot day, and there is strong wind all the time. But as the snow beauties told representatives of the press, they did not even have the time to feel the cold, and to take photos in "extreme and unusual c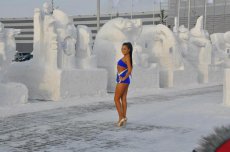 onditions was interesting".
Presentation of the final results of the contest and awarding of the "Miss Snow World" title will take place on the evening of 19 January.
World Snow Forum is one of the most ambitious Novosibirsk projects. The region, which is the most snowy territory in the world, came up with the initiative to realize this unique international event. The aim is to evaluate the problems of creating comfortable environment and living conditions in northern and snowy territories.
Famous journalist Sergei Brilev, who introduced the plenary part of the Forum, defined the life of compatriots living in territories covered in snow for the major part of the year in a very picturesque way.
He called it a "civilizational feat".
The most significant event of the Forum, which attracted the attention of several countries, is the congress "Ecology of Northern territories".
The expectation is that adaptation strategies of the given territories in connection with climate changes will be worked out during the forum.
---
© 2001-2022, "Tuva-Online" News & Information Agency (
www.tuvaonline.ru
).
Republishing, redistributing or syndicating without direct reference to Tuva-Online is
prohibited