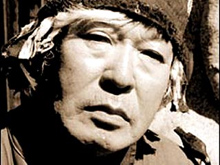 Tuva became the 248th place in the world playing the host to the "Drum of the World" (or Drum of Peace). The sacred drum has been traveling through the world with the message to "Stop the War between People and Nature" since 2006. This long trip started in Oslo, in Norway. In Tuva, the ceremony of blessing of the drum was performed by the legendary shamanologist, senior worker of the museum of the republic, the 84-year-old Doctor of Historical Sciences, Mongush Kenin-Lopsan.
The last country the drum visited was the Philippines, then the magic instrument of Siberian and Indian shamans – the drum with bells and a beater – came to Russia, accompanied with a representative delegation of shamanists. Tuva, from where the Drum will go on to Japan in July, was not selected for the visit by chance: there has been an active renaissance of shamanism in the republic for the past one and half decades.
Today, there are three shamanic societies in Tuva – "Dungur" ("Drum"), "Adyg Eeren" ("Bear Spirit") and "Tos Deer" (Nine Heavens) About 300 practicing shamans are associated in these societies. They provide healings perform rituals of "communication with spirits with healing intent", they work in tourist business, and participate in folklore shows.
The Drum will spend one month traveling through the republic with a retinue of shamans. "This action should help to return the lost traditions of respectful behavior towards environment, the society, and towards other people", Viktor Nursat, the vice-chairman of the society "Bear Spirit", explained to the ITAR-TASS representative.
His cultic organization is just finishing the building of a shamanist encampment in Kyzyl – 20 are standing at the location where Tuvan shamans traditionally perform shamanist rituals and ceremonies. This is where a Permanent Center for Study of Traditional Magic Knowledge is planned to be, where shamans from the whole world will conduct international seminars.