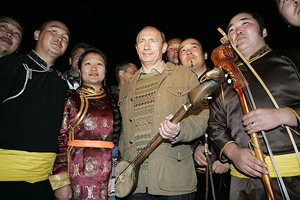 Kaigal-ool Khovalyg, famous throughout the world for unique throat singing, introduced the entire beauty of Tuvan khoomei to Vladimir Putin. Khoomei sounded in a camp on the shores of Khemchik river, in the light of a camp fire. The legendary throat singer, on a par with Vladimir Vysotski in the world anthology of musical arts, was accompanied by two famous ensembles – "Huun-Huur-Tu" and "Chirgilchin", whose international tour schedules are booked for years in advance.
"The fact that Vladimir Putin spent his one-day vacation, a singe one in ten years, in Tuva, is of extreme value. It is an immense support to the republic. The recognition of her natural beauty, touristic potential, and positive energy", - Premier Sholban Kara-ool informed the journalists at the Kyzyl airport, as he was accompanying the head of Russian government throughout Tuva. Tuva has long been known as the Mecca of throat singing. Tuvan khoomei masters, after being admitted to the homes of western megastars, to the attention of Hollywood, and after participating in the most viewed American talk-shows are beyond all competition on the territory of Russia.
The legendary Frank Zappa persistently used to invite the Huun-Huur-Tu musicians to his home, wore Tuvan national clothes with pleasure, and eagerly listened to khoomei. Peter Gabriel became offended when the Tuvans from the ensemble Shu-De, who were recording in his studio, ignored his invitation to come to his daughter's birthday party.
Kongar-ool Ondar communicated with the help of khoomei with the most highly-paid show-men of America, David Letterman and Chevy Chase in their rating talk shows.
A third group, "Yat-Kha", was acclaimed as the best in the category "World Music" in the BBC Radio contest.
Each of these Tuvan groups has its own army of fans who buy all their CD's, live by the tour schedules of their idols, and devotedly follow them around the world.
They all undergo the same metamorphosis: out of ordinary khoomei fans, who risk to imitate what they hear only in their souls, they become obedient students, thirsting for text-books, courses, sites and seminars.
Some prefer top be self-educated, others take courses, in which Tuvan throat-singers are the "invited faculty" . This process culminates by a trip to the native country of khoomei, for which they may save money for many years.
In this way, hundreds of khoomei fans arrive top Tuva every summer.
In 2007, Vladimir Putin met one of them – Sean Quirk, an American who has loved Tuva for a long time. Sean has a beautiful command of Tuvan language, married a Tuvan girl, and became a son-in-law of Tuva. Currently he is a musician in the Orchestra of National Instruments of the Ministry of Culture of the republic. In December of 2007, he also participated in the election campaign for Putin's party.
"Putin shook my hand, and wished me luck," Sean later shared the details of this meeting with the voters. – "He is the first leader of a government on this planet with whom I spoke, and who paid me attention. From that time, I decided that in absolutely everything that depends on me, I will help him. Putin is simple, human.. He speaks English remarkably well."
It is well known that the Premier of Russia was overcome by the natural landscape of Tuva. At one of the press-conferences subsequent of his first visit to Tuva, Putin directly admitted: "I have bee to many places. But I have never seen such magnificent nature anywhere else!"
The fact that Vladimir Putin prefers to spend his rare minutes of recreation in Russia, and – specifically - in Tuva, is welcomed in the republic as a sign of special attention.
Photo: 2007, Vladimir Putin and Tuvan throat singers.