Prime Minister of Russia, Vladimir Putin participated in another action associated with protection of animals. The main goal of the Prime minister's expedition to the "Ubsunur Depression" nature preserve, located in Republic Tyva, was to verify the areas of habitation of the snow leopard, which is listed in the Red Book and under threat of extinction.
The Premier's visit to the preserve, which is in South Siberia in a depression of the same name near
the salt-water lake Ubsu-Nur, took place in September, but the photos first showed up in the media only days ago. On October 30, a series of photos was published by the official site of the Prime Minister.
It is obvious from the photographs that beside study of snow leopards, the Premier also fished in the preserve's water reservoirs, posed on horseback in dark glasses and a camouflage jacket, and standing beside the horse, as well as posing holding a rifle over his shoulder.
The Premier visited Tuva together with the vice-premier, leader of the Apparatus of the Government, Sergei Sobyanin, who is now the head of mayor's administration of Moscow. This is Vladimir Putin's fourth visit to the republic in the center of Asia. Recall that the series of photos from his 2007 visit with Albert II, Prince of Monaco, also caused resonance in the media abroad.
As RIA Novosti writes, the Ubsunur Depression visited by Putin is one of the most unique places in Asia, where the nature created an original "parade of landscapes". the nature preserve holds a unique spectrum of ecosystems - from mountain tundras to deserts. In 1997, the preserve received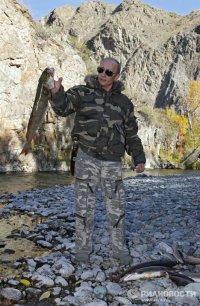 a biospheric status. In 2003, this biospheric preserve received a certificate of an object of World's Natural Heritage of UNESCO.
To protect and study the "Ubsunur Depression", in 1992 in Kyzyl was founded an Ubsunur International Center of Biospheric Research under the aegis of the Siberian department of RAN and the government of Republic Tyva.
The Ubsunur Depression has been submitted to the "Nine Treasures of Tuva" ("Tos Ertine") contest as one of the main noteworthy attractions of the republic. Altogether 238 entries were received by the project, and 110 objects have been selected. Currently the Expert Council of the contest is formulating the short-list for national voting.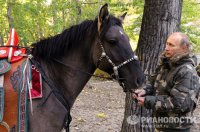 Last Friday, Putin held a council on the subject of development of a system of specially protected natural territories, which evaluated the rates of reestablishment of populations of rare animals. Prime Minister also proposed to develop eco-tourism actively and to continue to fight poaching. Putin promised to set up 11 new state protected nature preserves in the next 10 years, and 10 national parks.