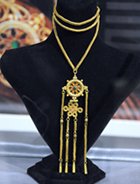 International exhibition "Traditions of folk art of Mongolia" opened at the National Museum of Tuva on 29 April. The exposition shows women's and men's jewelry,, made in the traditional way of Mongolian masters of the jewelry art. They represent a concentration of the heritage of the multifaceted and unique Mongolian culture.
The author of the jewellery is an artist- craftsman Nyamsuren Dorjzhantsan. She was born in the town of Arvaikheer of the Ovurkhangai aimak of Mongolia. Since 1995 she has been involved with jewellery art. Nyamsuren is a Master of Arts, and a participant in many exhibitions in Mongolia, Russia, Korea, and other places. A significant proportion of the exhibition consists of antique folk locks, some of which are 300 years old. More than 52 of the locks and other objects of decorative-applied art is from the private collection of Otonbaatar Rinchensambuu, a science worker of the Academy of Sciences of Mongolia, a tibetologist and specialist in ancient Mongolian writing.
Otonbaatar Rinchensambuu has been collecting locks already for more than 30 years. He also has texts of ancient sutras and a calligraphy set. Anybody who wants to can receive a scroll with his name and blessing from the master, written in Old Mongolic script.