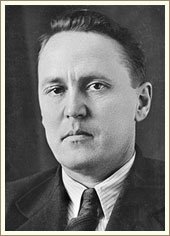 Leonid Pavlovich Potapov, Doctor of historical sciences, Professor, Merited Scholar of Russian Federation and Tuvinian ASSR, Laureate of Stalin and State prizes of USSR. Today marks the 106th anniversary of the scholar's birth. The 100th anniversary of the legendary ethnographer was celebrated modestly in 2005 - only in the narrow circle of scholars in Altai, the researcher's native country.
In Tuva, to which he devoted 11 years of field expeditions, he is not widely remembered so far. Possibly because during the perestroika years, he was included in the cohort of scholars of the old party school. His academic works were too "class-oriented". Already the titles showed it - "Relics of primitive society systems of the people of the Altai" - the name of his first monograph that proved that the Altai people had a class structure and inequality in wealth distribution. But the traditional beliefs of Siberian people always remained within his field of vision as well.
"After the war, I resumed intensive travel to Altai and Tuva again, especially Tuva. Trips to Tuva took up 11 years of my life. I published three volumes of materials of the Tuvan expedition, and did not manage to publish the fourth. And, of course, I continued to go to Altai. During that time, I markedly expanded my horizons by study of foreign materials on shamanism," - he admitted in one of his interviews.
In 1956, a team of investigators of Siberia from Institute of Ethnography of AN USSR published a monumental collected work "Narody Sibiri" (People of Siberia, from the series "People of the World"). The voluminous collection includes chapters "Altai people", "Khakass", Tuvans" and "Shors", written by Leonid Potapov.
His work "Altai Shamanism"(1991), based on the rich field material collected by Leonid Pavlovich during his innumerable field trips brought a special contribution to the development of Russian ethnography .
This work was fully appreciated by the American Foundation for Shamanic Studies, and in 1993 Leonid Pavlovich became a laureate of the Foundation and received the title of "Living Treasure of Shamanism".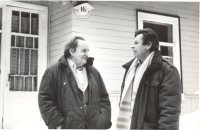 In 1996, the 39th session of Permanent International Altai Conference (PIAK) , which took place in Hungary, unanimously awarded the "Gold Medal of PIAK" to Leonid Potapov. It is interesting that this year this medal went to Sergei Klyashtornyi, researcher of Turkic runes found on territories of Central Asia, including Tuva.
Leonid Pavlovich Potapov died 5 years short of his 100th birthday - on 9 October 2000 in Komarovo of Leningrad region.
Photo: Leonid Potapov; Leonid Potapov and Valeriy Tishkov on a dacha in Komarovo.