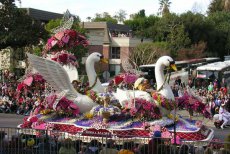 Two famous wrestlers "Arzylan moge" Seden-Ochur Kara-Sal and "Nachyn moge" Eres Kara-Sal, together with the director of Center of Tuvan Culture, National Khoomeizhi of the Republic Kongar-ool Ondar will represent Tuva in the Rose Parade in Pasadena, California. On 1 January, thousands of roses, platforms and music orchestras, as well as more than half a million people will take part in a parade of 9 km length.
This ceremony will be on direct broadcast to many millions of spectators.
"Tuvans first took part in this parade 20 years ago thanks to an invitation by the "Friends of Tuva" in America association, - explained Kongar-ool Ondar before departure. - This time we are going on our anniversary date."
On 1 January 1993, Kongar-ool Ondar was a last-minute replacement in the Rose Parade for the famous khoomeizhi Gennadiy Tumat, whose manager did not agree to his free participation in the parade. Together with Kongar-ool, famous khoomeizhis Kaigal-ool Khovalyg and Anatoly Kuular accompanied by interpreter Rada Chakar rode on horseback through the main streets of Pasadena. The participation of the Tuvan "threesome" in the legendary parade was the fruit of efforts of Ralph Leighton, one of the chief propagandists of Tuva abroad. In 2000, together with Kongar-ool Ondar, wrestlers Aldyn-ool Kuular, and Maadyr Mongush, as well as throat-singers Evgeniy Saryglar and Igor Koshkendey walked in the parade.
Before the long trip, our famous shaman Lazo Mongush gave some advice to the wrestlers and khoomeizhi, and he performed a protective ritual as well.
It s known that Kongar-ool is also on a responsible mission - to present a Letter of Gratitude from the Head of Republic Tyva, Sholban Kara-ool to the "Friends of Tuva" association, which has been instrumental in popularizing the cultural and spiritual heritage of Tuva all over the world, and Diplomas of Honour to Ralph Leighton and Tuva-Online English translator Heda Jindrak.
Remember that the founders of this association are the Nobel Laureate in physics Richard Feynman and the mathematician Ralph Leighton, who described their efforts to get to Tuva in his book "Tuva or Bust!"