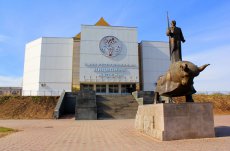 Its not surprising that a town located at the exact geographic center of Asia has special psychic energies. Kyzyl, the capital of the Tuva republic, is 3,700 kilometers to the east of Moscow. But as far as its style of business is concerned, it might as well be on another planet.
"If a person decides to move to Kyzyl to start a business," said Otkun Dostay, the head of the Tuvan branch of UNESCO, "he will gain mental and spiritual equilibrium. Finding himself in the middle of the taiga, a person becomes placated by the energy and the breath of nature. It is like recharging a battery."
"After living here for 2-3 months people who come from big cities gain a great supply of energy. They will not need those cities anymore," Dostay added.
There is practical evidence to back up his claims about the metaphysical attraction of the region, where the locals favor throat singing and crafting folk art of local animals to Internet cafes and museum hopping. These charms, and the local spiritual life based on shamanism and Buddhism, lure visitors from near and far.
Nobel-prize-winning physicist Richard Feynman had a life long obsession with reaching Kyzyl, which he never fulfilled. President Vladimir Putin has made several visits, and the positive energy here inspired him to go bare-chested on horseback for a photo opportunity. Defense Minister Sergei Shoigu is a native Tuvan. The natives have decided to honor the legacy of his family by renaming a Kyzyl embankment in honor of his father, who was a local politician.
But despite its niche fame, Kyzyl is barely accessible. There are no direct flights from Moscow and no connection with the Trans Siberian railroad. The nearest major city is a 400-kilometer journey.
Major Businesses
Geological and Mining Enterprise Tuvazoloto (7 Gornaya Ul. +7-39422-24-694) is one of the majors for gold mining.
CJSC Artel "Oyna" (7 Supakskaya Ul. +7-39422-53-908) is the largest non-ferrous metal enterprise.
OJSC "Tuvamebel" (151 Ul. Ayuna-Kuzsedi, +7-39422-138-53) specializes in manufacture of furniture.
JSC "Kyzyl CHP" (2 Kolkhoznaya Ul., +7-39422-582-98) provides supply of heat energy to the city of Kyzyl and the urban-type settlement of Kaa-Khem.
Kyzyl is in the center of the wide steppe of the Tuva republic, which is studded by taiga fauna of the Sayan Mountains to the north and deserts inhabited by camels to the south. The abundant energy of this unspoiled land attracts more spiritual visitors than businessmen, who have limited commercial opportunities in a region with no railroad connection. Though the land is rich in minerals and has agricultural potential, people escape to Tuva for other reasons. Some Americans move there to practice shamanism. And the dazzling nature, suitable for hiking, hunting and fishing, along with the local traditions, are unique attractions.
The name Kyzyl stands for "red" in Tuvinian and was applied from the 1920s — which is not surprising since the territory accepted the Bolshevik Revolution cheerfully, although it had taken on the name Belotsarsk in 1914, as a sign of respect to the Tsar.
After two decades of autonomy within the U.S.S.R. under the name of the Tuvan People's Republic, Tuva became part of the Soviet Russian Federation in 1944, and was relabeled the Tuva Autonomous Oblast.
During World War II, Tuvan natives formed volunteer detachments to serve on the front. With their nomad culture, Tuvans were fast and furious, though a significant part of the volunteers were women. Men enlisted as cavalry, even though Soviet military authorities categorized them as foreign troops. The Nazis mistook the undersized Asians on small horses for Chinese. Tuva also supplied the Soviet army with over 50,000 war horses.
Little changed on the face of the republic, the city, or its people in the course of the Soviet era. One of the few new buildings in Kyzyl is the National Museum of the Tuva republic. Real estate in Kyzyl is comparatively expensive due to the fact that there is no extensive residential construction. Apartment buildings in the historic center are usually 3 to 5 story brick constructions. Tall buildings are not built due to seismic activity. Some of the wealthy locals, however, have started building private houses.
The city is stretched along the bank of Upper Yenisei (Ulug-Hem) and Little Yenisei (Ka-Hem), with the center coalescing exactly where the two tributaries meet. This spot also marks the Center of Asia, and is marked by a monument on the embankment.
In 2014, Kyzyl will celebrate two anniversaries: the centenary of the city and 70 years of Tuva being part of Russia. The Shoigu embankment will be renovated according to the design of Dashi Namdakov, a sculptor of Buryat origin who also created the statue of Genghis Khan near Hyde Park in London.
Tuvans have a rich crafts culture. Stone carving is done using a soft, talc-like rock named agalmatolite. The style originates from the nomadic tradition: most of the subjects are animals and related symbols. Larger sculptures are also laced with meaning. When approaching Kyzyl from the north, one can see the massive monument of a Tuvan shepherd in a national costume stretching his arms above his head. The same route passes by another famous statue, a white deer feeding her baby. Shortly after its erection a half century ago, a common joke spread among the locals that the baby deer symbolizes the republic of Tuva being breast fed by mother Russia.
The roads from Kyzyl head out to the Sayan Mountains in the north, salt lakes to the South, and Old Believers' settlements to the east. Such annual events as the Huresh national wrestling contest, or the International Music Festival Ustuu-Hurje — which is organized to raise funds for the Ustuu-Hurje temple's restoration — are also unique attractions.
The physicist Feynman was attracted by legends of these sites, which he first learned about by collecting Tuvan stamps as a child. He intended to visit, but died of cancer in 1988 before he could embark on his adventure. His friends made it to Kyzyl, where they agreed with the authorities to have a plaque mounted next to the Center of Asia monument.
The plaque read: "Richard Feynman 1918-1988. His attempts to reach this spot in the land of his dreams inspired others to set foot here."
The goal of the delegation was to leave a memorial to Feynman's energy connection to the far away land. But unfortunately, shortly after mounting, the plaque was stolen — leaving only the glue marks as a reminder of its presence.
What to see if you have two hours
Take a walk along Ulug-Hem embankment and reach the Center of Asia monument. If parks are something you like, check out the Central Park of Culture and Leisure just beside the monument. If you are there on weekdays you can attend the national Huresh wrestling competition held on the field of a stadium inside the park. Next stop is the Tsechenling Hurje — a typical Tuvan Buddhist temple (1 Ul. Shetinkina-Kravchenko). If you walk in the opposite direction along Ulug-Hem, you can reach the new building of the National Museum of the Tuvan Republic (30 Ul. Titova,+7 39422-2-33-87). Take a look at their exhibitions of Scythian gold: Kurgan tombs Arzhan-1 and Arzhan-2, located 60 kilometers from Kyzyl, revealed countless refined treasures of the Scyth era. Don't miss the museum shop if you are interested in national costumes or traditional Tuvan musical instruments. On the way back stop by Arat Square (between Ul. Lenina and Ul. Kochetova, next to the Music and Drama Theater) to see the Buddhist prayer drum. And before you leave, find one of the two "Olchey" souvenir shops, which offer a variety of traditional art items — from little statues made out of agalmatolite to national clothes — 21 and 26 Ul. Tuvinskikh Dobrovoltsev.
What to do if you have two days
Head out of town and explore! Find a tour or a private guide and get prepared for long car journeys. The salt lakes, located 20 to 50 kilometers from town, are worth seeing during the summer: Hadyn's waters are as moderately salty as sea water, and Dus-Hol (Svatikovo) has a higher concentration of salt. The mud around the salt lakes is also therapeutic.
Another option is to visit the Old Believers settlements in the villages of Belbey, Uzhep, Sizim, and Yerzhey in the middle of the taiga, 140 kilometers from town. Called Starovery in Russian, this religious group separated from the official Russian Orthodox Church in protest against church reforms by Patriarch Nikon in the 17th century. Ever since then, the Old Believers have been living in isolated settlements. They tend the land and shun creature comforts. But visitors from the ''outer world'' receive generous hospitality from the Old Believers, and can discover the way Russians lived centuries ago.
If you are planning to visit Tuva in July, you will be able to see a special music event that takes place near the city of Chadan, the town where Shoigu was born. The Ustuu-Hurje festival gathers bands and performers for an outdoor show. There is no definite genre or level of performing skills required to participate. An open and confident attitude towards musicians is one of the main ideas of the festival, which donates all proceeds to the restoration of a Buddhist temple. Musicians are often accompanied by Shamans, who are also a local attraction.
If you are planning to stay in Tuva for two weeks, consider taking a master class in throat singing — there are a variety of techniques to learn. If one prefers spiritual practices to music, Shaman services are available through appointments that can be scheduled with the assistance of Dungur office managers in Kyzyl: 246 Rabochaya Ul.; tel. +7 39422-3-19-09.
Nightlife
Nightlife is not something that attracts people to Kyzyl. Most of the places open after midnight close just shortly thereafter. There is Ene-Sai, which is a restaurant and a night club. A lot has been said about the wonderful national dishes there, but before getting involved in the night program, ask someone reliable if they still have a daily striptease show. Whenever they do not, stop by for live Tuvinian pop music. 30 Ul. Shetinkina-Kravchenko; +7 39422-3-20-70.
Three night cafeterias and one bar are also open in the building of the Odugen hotel (36 Ul. Krasnykh Partizan).
Where to eat
Every major hotel in Kyzyl has a restaurant: Odugen, Kyzyl hotel, and Mongulek. If you are interested in trying local dishes, bare in mind that most of the restaurants require reservations and advance orders. Ene-Sai restaurant offers such delicacies as bashtak (Tuvan cheese), khan (black pudding), and chartyk manchy (dumplings) on their regular menu. Suvon restaurant (100 Moskovskaya Ul., +7-39422-5-12-12) is located outside the center but on the way to the Kyzyl airport and is famous for its Korean cuisine.
Where to stay
Gostiny Dvor (38 Ul. Krasnykh Partizan; +7 39422-3-05-03) is a small but reputable hotel that has 12 rooms. President Boris Yeltsin and the Dalai Lama XIV are among its previous visitors. The hotel has a courtyard and a banquet room for events.
Buyan-Badyrgy (1 Moskovskaya Ul.; +7 39422-5-64-60; (www.basyrgy.ru) is a 4-star business class hotel, quite new and cozy with all possible amenities, such as a minibar, Wi-Fi, etc. It is a few blocks away from the center.
Odugen (36 Ul. Krasnykh Partizan; +7 39422-3-25-18) is located near Gostiny Dvor. The name means taiga in Tuvinian. The hotel has 35 rooms with all comforts included, a restaurant and a cafeteria that is open till midnight. The travel agency "Center of Asia" has an office on the first floor of the hotel. It might be the best choice for tourists — as well as the Kotedge Hotel, which faces the Yenisei river (38 Ul. Partizan; +7 39422-3-05-03)
Mongulek is the biggest hotel in Kyzyl — it offers 65 rooms. However, being less expensive than the rest, its level of quality is in line with its pricing. There are 10 single suites, but other rooms often do not have a shower. A better choice for low budgets can be found in the Kyzyl hotel (13 Ul. Tuvinskikh Dobrovoltsev; +7-34922-1-11-07), which, however, has not been renovated for over 20 years.
Another good option is to rent an apartment for $63 per day. "Apartment Hotel Ocean" is one of a few companies to offer apartments for daily rent. 143 Ul. Kochetova, +7 39422-2-11-07
Conversation starters
Ask the locals about Maxim Munzuk; he was an actor who played the leading role in Akira Kurosawa's award-winning movie
"Dersu Uzala," the first film of the famous director done in a foreign language. Sergei Shoigu, who is considered a local hero, is also happily discussed. A great deal has been done in Tuva under his patronage. At Shoigu's initiative several archeological expeditions were sent to Por-Bazhin, an "earthenware house" from the Uyghur Khaganate era (about 800 AD).
Unfortunately, after two years of work, the Por-Bazhin mission petered out, and now the abandoned fortress is slowly eroding.
Cultural tips and weather
Keep away from drunk Tuvans. Before the republic became part of the Soviet Union, alcohol was a taboo for locals. Their only spirit was araka, a national milk-based vodka. Tuvans are said to lack the gene that is responsible for breaking up alcohol. In any case, Tuvans are well known for their passionate temperaments and intense pride in their ethnicity.
Those interested in encountering Tuvan psychic energy by visiting Kyzyl should keep in mind the continental climate in the region. Tuvan winters are harsh with little snow: -40 degrees Celsius is common. However, because of the low humidity and windless weather, even terrifying lows seem easier to tolerate than the humid frost in Moscow. Summers are dry and hot, often +30 degrees Celsius with burning sun. But still, much of the territory is permafrost.
How to get there
A couple of years ago the Kyzyl airport stopped operating flights from Moscow. Now it primarily receives presidential delegations. Local Tuvan airlines offer flights from Krasnoyarsk to Kyzyl — though on small Let L-140 aircrafts and from a secondary Cheremshanka airport. The easiest way is to catch a plane to Abakan, in the Khakasia Republic, and then take a car through the Sayan Mountains — both Aeroflot and S7 operate flights to Abakan for 4,500-5,000 rubles ($160) for a one-way ticket. Buses travel between the cities daily, and it will take about nine hours 30 minutes to get to Kyzyl by bus. Tickets usually cost around 700 rubles. Taxi rates are quite flexible; a taxi driver at the bus station would start from 4,000 rubles for a car ride. However, it is always possible to negotiate the price and lower it to 2,000 rubles for an economy class sedan. A ride from Abakan may take five hours on average, but the terrific landscapes along the way are definitely worth seeing.
Sayan Bapa,
Tuvan native and the leader of the world famous Tuvan music group Huun-Hur-Tuu
Q: Is it fair to say that above all, Kyzyl, and Tuva in general, is a center for authentic culture?
A: Yes, and it makes me proud to have been born here. Just look how unique this place is historically. Tuva has always been part of various empires or Khanates — and has always been a cultural center. Our language is one of the oldest languages, and the archeological discoveries confirm this. There is a strong connection of the nation and its culture with the land, and it still remains strong — which is atypical these days.
Q: Huun-Huur-Tu is one of the few traditional music groups known in Europe and U.S. as well as in its native country. Is there really interest in Tuvan music abroad?
A: I must say that, thankfully, Tuvan music is in high demand. We had a chance to perform all over the world, and sometimes we witnessed people standing in lines to attend our concerts.
The group has been known for 20 years already, and throughout these years we have been studying traditional Tuvan music and making exclusive instruments the way they were made centuries ago. But if people were amazed by throat singing in the past, now it is more well known. These days we are touring with music ensembles from the Altai republic and Khakassiya, and it stimulates great interest.
Vladislav Khovalyg,
Mayor of Kyzyl since August 2008
Q: Is Kyzyl an attractive city for businessmen and investors?
A: The investment attractiveness of Kyzyl is determined by the economic and geographical situation of the city. It is the main traffic center for raw materials in the republic of Tuva, its cultural and recreational potential.
The city accounts for about 80 percent of commercial property. The headquarters of mining industry companies — gold, metals, coal —are based in Kyzyl. The city has its significant economic, infrastructure and labor potential. A major educational and intellectual part of the republic is concentrated in Kyzyl, namely: Tuvan State University, with 10 departments, the Research Institute of Agriculture, as well as the Tuvan Institute of Complex Development of Natural Resources of the Siberian Department of the Russian Academy of Sciences.
Q: What has been done recently to attract investors?
A: This is one of the priorities of the city of Kyzyl, to attract investments into its economy. According to the resolution of the city council, investors get the opportunity to contribute to important social and industrial projects with tax benefits and favorable terms of land use, including reduced rental rates or free use of land and natural resources.
Small businesses interested in investment projects in Kyzyl are able to obtain loans through state and federal funds. The mayor's office is ready to consult and support organizations and individuals who'd like to invest in the economy. Kyzyl is open to any suggestions from potential partners that meet the interests of the city and the republic. Those projects related to energy development, public infrastructure and residential building are matters of particular interest.
Alexander Petrov,
an entrepreneur who moved to Kyzyl to start his business
Q: What is your business in Kyzyl?
A: I have been selling petroleum, oil, and lubricants through local fuel stations since 2003. The majority of companies throughout the republic are currently working with my company to purchase gasoline and diesel fuel.
Q: What are the pros and cons of starting business in Tuva?
A: There are difficulties such as: poor infrastructure, low-skilled personnel, or even a lack of labor and traditions of doing business.
But it is also an advantage because if you have built a business from scratch, you get guaranteed competitive advantages since you are the first and ahead of everyone else. Tuva is a land of endless possibilities in all sectors of the economy.
— Diana Kondrashin