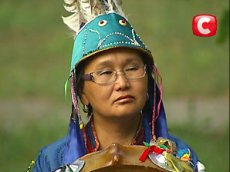 Tuvan shamaness Marina Khomushku will participate in TV project "Psychics are investigating" on Ukraine channel STB, as announced by site Tyva medee. It is analogous to a project by Russian channel TNT "Battle of the psychics".
Marina has already participated in the Seventh international battle of the psychics. She placed sixth. After the game, the film group called Marina and invited her to take part in the new project. The program begins today, 28 January.
---
© 2001-2020, "Tuva-Online" News & Information Agency (
www.tuvaonline.ru
).
Republishing, redistributing or syndicating without direct reference to Tuva-Online is
prohibited