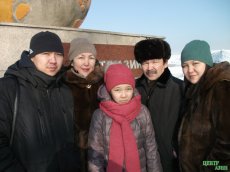 My children: What are they like?
I have three children: son Sayan, and daughters Syrga and Dolzatmaa-Syldys. Now the older children are grown up, they have families and children of their own. Sayan is 30. He graduated from Moscow State Pedagogic University specializing in jurisprudence, and he is working in his field.
Syrga is 28. Since finishing Russian State Social university she has been working at the ministry of education in Tuva. The younger daughter Dolzatmaa-Syldys, the favorite of the whole family, is in fifth grade at the No. 5 gymnasium. She is eleven.