Over 2,000 people have taken part in a rally against mass alexistrative pressure for favoritism of the 'United Russia' party in the coming parliamentary elections. Participants from Pii-Khem, Tandy, Kaa-Khem, Chedi-Khol, Erzin districts have come to Kyzyl to voice their concern about it. They carried slogans 'For equal rights of candidates in the elections', 'United Russia Coward', 'We are against splitting Tuvan society into yours and aliens'.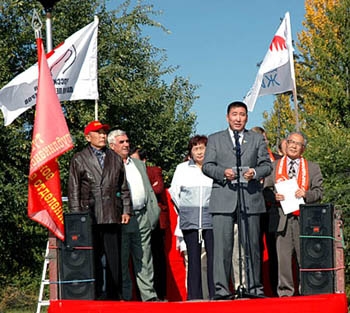 Tthe improvised tribune at the entrance to the National Park speakers of all oppositional political forces - Communists, Life party, Rodina, Liberal Democrats, Party of Pensioners, People's Will - asked for honest elections, for the higher executives to stop interfering into the election process, and to stop intimidating their subordinates with dismissals and other reprimands if they are not 'United Russia' supporters.
Rally participants signed an Address to Election Commission of Tuva to provide equal rights and possibilities for all the candidates, an Address to the Government of Tuva to stop interfering into the election campaign, and to Tuvan Procurator's Office to investigate the concrete facts of law violations related to the current election campaign.