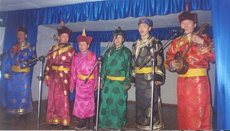 One of the focal points for ethnic music indigenous to the Asian part of Russia is the yearly Kyzyl-Moscow festival, which opens for the third time on Tuesday. Featuring several nights of concerts at the Central House of Artists and the Dom Cultural Center, the festival focuses on the music of the peoples of southern central Siberia, with a spotlight on Tuvan music -- Kyzyl, which gives the festival its name, is the capital of the Tuva republic. The festival's producer and curator, Georgy Beletsky, is a 33-year-old Russian-Armenian who became interested in traditional Siberian culture and music about six years ago and has learned to play Tuvan folk instruments.

"Tuva is both a geographic and cultural center in the region," he said, explaining the festival's emphasis on music from that republic. "Also, the Tuvans have managed to preserve more of their indigenous culture than other republics due to their becoming part of Russia later and retaining their traditional way of life, even though in Soviet times there were attempts to eradicate it. Their culture and music lives on and has been developing on a professional level. There are professional music schools that teach the local folk music, and there are institutions for the preservation of both musical and literary folklore -- things that are lacking in other neighboring autonomous Asian republics such as Khakassia, Altai and Buryatia."

Beletsky added that Tuvan culture has many points in common with the nomadic cultures of peoples surrounding Tuva, a point echoed by festival participant Akulina Varlamova, who is from the Sakha republic, formerly known as Yakutia.

"The culture of the Sakha people is the human connection with nature through the art of sound. In Tuvan folklore, the sacred cult of nature as the source of our life-force and inspiration is always present," Varlamova said in the festival's press materials.

Other commonalities extend to practical elements such as instruments and playing styles, Beletsky said. For example, two-stringed lute-like instruments, jaw harps and throat singing are common to several Siberian peoples.

In addition to Varlamova, Sakha is represented in the festival by the Ayarkhaan Ensemble, led by Albina Degtyareva, an instructor at Yakutsk Music College and an skilled jaw harp player.

The third republic featured in the festival, besides Tuva and Sakha, is Khakassia, which borders Tuva to the northwest. It is represented by Yulia Charkova, the twenty-something daughter of internationally known Khakass musician Sergei Charkov. Along with the jaw harp, she is an accomplished player of the chatkhan, a rectangular stringed instrument played on one's lap and similar to a dulcimer.

Tuva itself is represented by a diverse array of artists from both Kyzyl and rural areas, many of whom have never played in Moscow before, and some of whom are as young as or even younger than Charkova -- for instance, the five members of Saradak Ensemble, who range in age from 9 to 14. Saradak's artistic director is throat-singing master Kheimer-ool Khovalyg, who is also performing solo.

The festival also features an ethnic Russian ensemble: the Irkutsk-based Autentika, otherwise known as the Authentic Music Ensemble. Founded in 1988 and led by artistic director Alexander Rogachevsky, the group aims to preserve ancient Russian singing traditions from southern Siberia. In addition to performing in Central Europe and China, the ensemble has had its music used in Polish theater director Grzegorz Bral's production of "Macbeth" and Japanese filmmaker Junya Sato's "Dreams of Russia," a unique Japanese-Russian production from 1992 about Japanese sailors lost in Russia in the 18th century.