The organizing committee of the tenth annual beauty contest "Miss Krasnoyarsk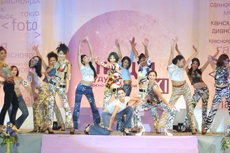 2007" has charged Tuvan choreographer Vyacheslav Dongak with production, Tuva-Online news agency reports.

"We like his ability to show and take into consideration individual features of every participant, to choose plastics for each of them correctly. Moreover, he can organize and present a beautiful show for viewers," Regina Kuzmenko, the Vice President of Krasnoyarsk Aerobics and Fitness Federation, believes.
Tuvan Fashion Theater is known to present a fashion show, and "Edegey" group is expected to take part in a show.

Dongak will be working for this show for the second time. He also staged "Miss Krasnoyarsk 2003".