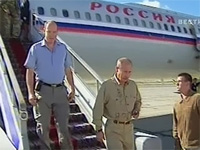 Russian President Vladimir Putin and Prince Albert II of Monaco have arrived at the Tuva republic. Russian Emergency Situations Minister Sergei Shoigu and head of the Tuva government Sholban Kara-ool were meeting them at Kyzyl airport. From the airport Putin and Albert II flew by helicopter to the Por-Bazhyn fortress.
In the view of scientists, the ancient Uygur fortress Por-Bazhyn was build in the middle of the eighteenth century during the rule of Khagan (King) Moyun-Chur. Its name means "clay house." The fortress was located on an island of Lake Tere-Hol 250 kilometres southeast of Kyzyl. The monument was discovered by the renowned Russian Orientalist, Dmitry Klements, in 1891.
Under the Russian president's decree, in 1995 the Por-Bazhyn fortress was included in the list of objects of historical and cultural heritage of federal importance.
The Russian Chamber of Industry and Commerce, Union of Cinematographers, All-Russian Voluntary Society Sports Russia and a number of other non-governmental organisations acted as founders of the Cultural Foundation Fortress Por-Bazhyn.
Aside from Shoigu, the trusteeship board members are Chairman of the State Duma lower house of parliament Boris Gryzlov, Director of the Federal Security Service (FSB) Nikolai Patrushev, Minister of Natural Resources Yuri Trutnev, Interior Minister Rashid Nurgaliyev, Minister of Culture and Mass Communications Alexander Sokolov, Moscow mayor Yuri Luzhkov, St. Petersburg governor Valentina Matviyenko, President of Tatarstan Mintimer Shaimiyev and other prominent state figures and politicians.