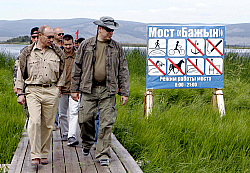 President Vladimir Putin and Monaco's Prince Albert II traded opulent imperial settings in St. Petersburg for an 8th century fortress and a Mongolian nomadic tent in a southern Russian region Monday, as the Monegasque prince continued his vacation in Russia.
The two traveled to Kyzyl, the capital of the republic of Tuva, about 4,700 kilometers southeast of Moscow, then flew by helicopter to an island on Lake Tere-Khol.
Russian television showed them entering a yurt, a tent used by Mongolian nomads, and touring the grounds of the Por-Bazhyn fortress, a clay labyrinth built more than 1,200 years ago when the region was ruled by the Uighurs, a Muslim, Turkic-speaking ethnic group.
An archaeological dig is ongoing at the site in preparation for restoring the fortress, a pet project of Emergency Situations Minister Sergei Shoigu, who accompanied the two officials on their visit.
Later Putin and the prince went rafting along the Yenisey River, news agencies reported.
Putin on Sunday hosted the Monegasque prince at Peterhof, an 18th-century tsarist estate on the shore of the Gulf of Finland, near St. Petersburg.
Putin thanked Prince Albert for supporting Russia's bid to host the 2014 Winter Olympics in the Black Sea port of Sochi. The prince, who is on the International Olympic Committee, attended last month's IOC meeting in Guatemala, which awarded the Games to Sochi.
The prince noted cultural and scientific ties between Russia and Monaco, adding that he had good personal contacts with Russian scientists who helped his polar expedition last year.