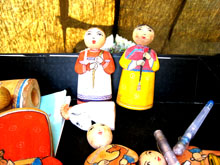 Right in the center of Kyzyl, in the square by the House of National Creative Arts, stands the choom of The Story-Teller. This is where the founder of the puppet theatre "Shyanam", Viktor Kuular an architect by education, a puppeteer by vocation, runs his workshops. Their theme is puppet therapy. Finger-puppet theatre, in Viktor Kuular's opinion, has a healing effect for both the performers and the spectators.

Viktor Kuular is an active proponent of finger puppets which were widely used in old Tuva. Just on bare enthusiasm, he researched prototypes of Tuvan national toys and puppets, and play show elements – "oyun-toglaa", as the "Center of Asia" wrote about the enthusiast in 2005.

For five years, he collected historical materials, skits, narrative histories. His archive contains memoires of the national writer Kyzyl-Enik Kudazhi, the scholar Dorzhuu Kuular and other contemporaries about their favorite national games and plays, and the puppets of their childhood.

At the scientific-practical congress "Yurta-2004", the puppeteer presented a paper on the theme "Developing cognitive activity in children by the use of puppet theatre, with the example of "oyun-toglaa" with national puppets".

And he held two worhshops: "Making Tuvan national puppets from poplar bark", and "Oyun-toglaa" with puppets: kuunash, tokuuzhuk, chuchuunai, and small sculpted toys - durzu - the traditional way of children's learning".

Viktor Kuular worked out an educational method manual "Making Tuvan national puppets, and elements of shows and plays of puppet theatre "oyun-toglaa", as an aid for parents and teachers. On the basis of this textbook-manual, any family or school can open a mini-studio or put together their own amateur puppet theatre, which, first of all, will give pleasure to the children, and will become their lifelong friend from their youngest years.

In 2003, Viktor Shuulevich became a diplomate of the International Eco-ethnographic festival of puppet theatres, "Chir-Chayaan", which took place in Abakan. In the framework of the festival, Viktor Kuular put on two performances.

The main "hero" of the show was Tuvan national puppet Chuchuunai – the younger brother of the Russian Petrushka, Czech Kashparek, Hungarian Karagez, Italian Pulcinello, and Japanese Minota. Afterwards many people, on meeting Viktor Kuular, would jokingly ask him: So, how are you, Chuchuunai?" Now children joke about him:" there he goes – Tuvan Papa Carlo".