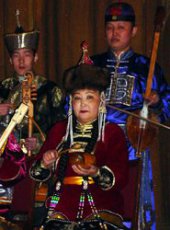 Today, national artist of Russia and Tuva is holding a benefit concert. She is saying good-bye to the State ensemble "Sayany", with whom she worked for many years.
Apparently, love for folk song is inherited in mother's milk. The singer's mother, Opal Agban-Shyyrapovna, who is now 81 years old, won the Grand-Prix of festival-contest "Folk Song - 2011".
At the concert, they will together sing a song about their native places. The singer's grandmother, Manzyr sat, also loved to sing, including chastushkas of her own composition.
Nadezhda Kuular is a real original, who was given her talent and voice by nature itself. She even stayed at the art school for only one semester - she and other students 9now they are all veterans of ensemble "Chechek-Sayany") were immediately accepted by the collective, which was led by Robert Lesnikov at that time.
Nadezhda will again sing "Bai-la Khemchiim" - a song that became her trademark., "Ushkash keliyn" to the music by A. Chyrgal-ool, words by K.-K. Munzuk, "Ene-sai", composed by the singer herself to the words by Vladimir Seren-ool, and others. Famous soloists will take part in the concert, among them Demir-ool Kezhiktig, Borbak-ool Salchak, Damba-Dorzhu sat, Stanislav Iril, Luiza Mortai-ool, Nadezhda Shoigu, veterans and artists of ensemble "Sayany".
Thanks to Nadezhda Kuular, the whole world found out about Tuvan folk songs - she toured much and successfully with many folklore groups.
As the singer herself said, her concert activity will not stop with leaving "Sayany". The head of the vocal group of the ensemble, Irina Ondar, also hopes for further co-operation. Nadezhda Kuular, as she said, always helped younger artists, and generously shared her repertoire. The singer would like to see further development of the folk direction of the ensemble; it is good that there are excellent folk voices there: namely Aidysmaa Koshkendey, Olchaana Samdan, and Dolaana Kuular.