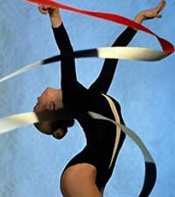 One of the most beautiful and spectacular types of sport – artistic gymnastics – is being first introduced to Tuva.
Children's admissions to to groups of this type of sport are now being held at the sports-complex "Subedei".
"Honestly, we did not expect that so many will be interested in practicing artistic gymnastics", admits the director of the republican children's and youth sports school, Tolban Samdan.
The master of this sport, Alena Udod, prize-winning champion of Krasnoyarsk in artistic gymnastics, came to Kyzyl to teach the little athletes.
She is a promising athlete and a remarkably beautiful girl.
"We had an obvious predilection towards masculine types of sports, - said the director of the Agency for physical education and sports, Mergen Oorzhak. – That is why we decided to develop into a new direction – artistic gymnastics. For girls, this is the Number One sport. It helps them develop gracefulness, elegance, and a sense of beauty. The stream of those wishing to sign up their children for the new section proves that we were not mistaken in the choice of this type of sport. We are also going to work on the possibility of opening a section of figure skating. It is lucky that we have "Subedei"!"
It is true that gymnastics started to develop in Tuva during the late 50's of the last century. The trainers Magdalina Kozhevnikova, Nelli Chemkova and Leonid Sokolov brought uo several generations of young people who were in remarkable control of their bodies. As Magdalina Kozhevnikova remembers, they participated in various competitions in Tomsk, Omsk, Tyumen, Krasnoyarsk and Novosibirsk. The trainer names Nadia Tkacheva, Tatiana Chashchukhina, Lyudmila Solodovnikova and Irina Ilyina as the most promising among her students. The last of these is currently an experienced coach herself, and works as a teacher in Kyzyl School No.14.
Unfortunately, during the years of the "perestroika" this type of sport, just like soccer and light athletics, lost its position.
In Tuva, soccer received its second breath when the new soccer field was opened.
Now the artistic gymnastics are beginning to develop.
Photo: the master of sport of artistic gymnastics, Alena Udod, prize-winner of the Krasnoyarsk championship.