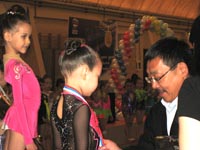 Brand new esthetic standards of sports competitions were set in Tuva last Sunday.
In a beautified, music-equipped sports complex "Subedei", there was a celebration of grace and beauty – the first competition in artistic gymnastics to take place in Tuva. It did not receive the status of a Championship because of the very young age of the participants. Forty-one athletes aged from 3 to 14 years came out onto the gymnastics mat and introduced programs with a hoop, jump-rope, and ribbons to the enthusiastic, admiring spectators.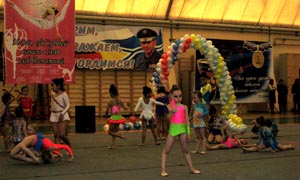 The light, airy appearance of the hall provided the atmosphere for the participants "pointing noses and holding their backs" with all their concentration, the strict and very beautiful judges, and the grateful audience literally drinking in with their eyes the area where their young compatriots created never before seen patterns and pictures.
"This was something astonishing, magical. As if you are walking in a field and suddenly you see flowers of unearthly beauty," – admiringly shared his impressions of the competition Vice-Premier Anatolii Damba-Khuurak with journalists.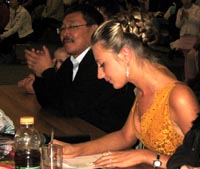 It was hardly more than half a year ago that Alena Udod, a graduate of the Krasnoyarsk school of Olympic reserve came to Tuva to give a beginning to a type of sport that is brand new in Tuva.
"You can't even imagine how our daughter changed, - the parents in the audience admitted. – Always stretched straight, carries her head so well. And she is only six years old."
The head of the agency for physical culture and sport, Mergen Oorzhak, does not hide his satisfaction. "Alena Viktorovna is a great enthusiast of artistic gymnastics. She is an extremely talented trainer. Thanks to her efforts, anew type of sport was born in the republic from nothing,- says the sports official. – We had an obvious bias for masculine type of sports. But now, finally, an alternative for girls showed up. This competition shows that our girls have very good perspectives in artistic gymnastics."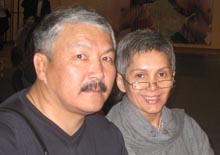 This is confirmed by a very experienced trainer, one of the judges of the competition, head of the federation of artistic gymnastics of Krasnoyarsk, Irina Aryutina. "Of course, this competition is a milestone in the sports life of Tuva. This is a foundation of an Olympic type of sport, - says Irina Aryutina. – I am proud of my student – Alena Udod. What she managed to do in such a short period of time is praiseworthy. The experience of development of artistic gymnastics shows that Asian girls are very well suited for this kind of sport. Even the chief trainer for the Russian team, Irina Viner, admits that. They listen well to music, are very elastic, agile, flexible. This relates very well to your girls. They grasp the basic elements very quickly!"
The Krasnoyarsk trainer is convinced that artistic gymnastics could very well become the "younger sister" of free-style wrestling, the most popular sport in the republic. "It is just like that in Krasnoyarsk Krai. Two types of sport that support and complement each other. Our gymnasts are always invited to perform at the openings of the competitions in free-style wrestling."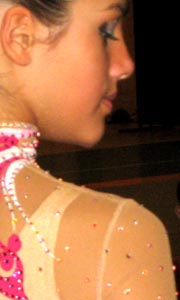 Another guest from Krasnoyarsk, Elena Aryutina, who has just come back as a the winner of the international competition with ribbons in Zagreb (Croatia), showed a lesson in artistic gymnastics to the neophytes. She, just like Alena Udod is a graduate of the famous Krasnoyarsk school of Olympic reserve "Energiya".
The highest points awarded by the judges, among whom a young helper in a white formal gown walked, were deserved by Ninel Solovieva (2003-2005 birth year), Mariya Yangulova (year 2003); Ailada Septel (2001-2002); and Ailuna Oidup (the senior group).
The winners and runner-ups of theTuvan competition begin preparation for participation in an inter-regional competition of the "Energiya" school of Olympic reserve, which takes place in the middle of June in Krasnoyarsk. Their summer promises to be busy. In July, there will be a sports session in a camp on the Black Sea. In August, the young trainer plans to have a little bit of rest, and then start another selection of new pupils into the section of artistic gymnastics.
"In Tuva, Nature itself helps them to learn gymnastics. They are physiologically extremely well suited to this type of sport; the have "soft legs", they are flexible and agile, strong, and willing to work hard. And remarkable appearance, - says Alena. – Iworked as a trainer in Krasnoyarsk for several years, and now I work here. I have to admit that I get much more pleasure from my work in Tuva."
Organizer, judge, and trainer Alena Udod personally noted everybody who had eanything to do with the organization of the first competition in artistic gymnastics in Tuva – the government of Tuva, the agency for physical culture and sport, the federation of artistic gymnastics of Krasnoyarsk, the sponsors, parents who showed constant support of artistic gymnastics.
Remember that the task to develop new types of sport, to pay special attention to the basics – gymnastics, swimming and light athletics, was given to the agency for physical culture and sport by the Premier Sholban Kara-ool.
In Tuva, the swimming pool in the Yarygin sports- complex should be finished, and the Tuvan State University also plans to have a pool by the end of the year.
Photos: Ninel Solovieva on the highest step of the pedestal, Vice-Premier Anatolii Damba-Khuurak awarding Dana Dongak, second place;
Before the results are announced, everybody can relax on the mat, including the youngest gymnasts;
Judge Alena Udod at work;
Head of Agency for physical culture and sport, Mergen Oorzhak and Judge of the competition, Irina Aryutina;
Master of sports Elena Aryutina.