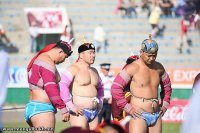 International competition in national types of wrestling will take place in 2011 in the capital of Tuva. This decision was reached by sports authorities of Tuva and Mongolia, which is the main initiator of this competition, as announced by the first deputy of the minister of youth and sports affairs Radislav Navazhap, who conducted the talks by assignment by the head of the republic Sholban Kara-ool.
The Mongolians agreed with the Tuvan premier's proposal to annex this event with other activities of the main holiday of Tuva, the Day of the Republic, which will celebrate the 90th anniversary of the founding of the republic.
It is proposed to secure the participation of the strongest wrestlers from Mongolia, Inner Mongolia (China), Russian regions Altai, Buryatia, and Kalmykia in the competitions. It is also expected that athletes of the SNG countries, Kazakhstan, Kirgizia and others will come. Alltogether 100 masters of traditional single combat will participate.
Remember that this competition was initiated for the first time by Mongolia to popularize Mongolian wrestling. The first time the meet was held in Ulan-Bator, where the participants agreed to hold the next competitions in turn in other countries which belonged earlier to the world of nomads and have preserved its cultural traditions.
The following meets were held in countries related to Mongolia - Inner Mongolia in China and Russian Buryatia. Tuva has been an active participant since the beginning. At the last meet in Ulan-Ude, Tuvan wrestler Syldys Mongush became the champion of Mongolian wrestling for the 75 kilogram weight category.
The widening geography of the meet demanded changes in the program. Starting with the Buryat meet, together with the Mongolian wrestling competition, the native styles of wrestling of the host region are included. That means that during this summer's nomad championship in Kyzyl, the participants will have to measure their strength also in Tuvan national wrestling khuresh.
The championship, in the words of Radislav Navazhap, promises to become one of the brightest events not just in the life of the republic, but of Siberia as well.
Tuvan authorities have started to prepare for the arrival of athletes and guests of the republic, of whom quite a crowd expected to show up - it is not every year that one can participate or see an event that collects so much that is exotic and spectacular in one place.