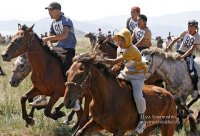 Today, horse breeders from the whole republic are coming to Chadan. In Tuva. Tomorrow the 18th season of republican horse races opens in Tuva; it is the most popular kind of sport in the republic.
Traditionally the route of the horse riders will take place at Bora-Bulak near the center of Dzun-Khemchik district - the town of Chadan.
According to information supplied by the president of Federation of horse sport of Tuva, Eduard Dagba-Lama, more than 400 of just the riders of the race horses and horse owners are coming. Even more fans are expected, who will be using their own motor vehicle transportation.