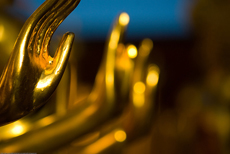 An airplane arrived with the most eagerly awaited cargo – 1000 goldedn Buddha statuettes – destined for the "Ustuu-Khuree" temple, the opening of which is planned fro the spring of next year. The priests of the administration of the Kamby-Lama of Republic Tuva carried out the active collecting of the means in the districts.
Tuvan Buddhists came with whole families to present their contributions. The entire nation responded to the request for help – from simple shepherds to businessmen and politicians.
Altogether, around 5 million rubles were collected.
The statuettes were crafted at a special order in one of provinces of Nepal, and all the work was done under the supervision of the Nepal Lama Tuge Pinpoche, who also came to Tuva together with the precious cargo. All the gold statuettes are destined for the "Ustuu-Khuree" temple, which is an exact copy of the Upper Chadan Khuree, which was destroyed at the beginning of last century. Currently, the statuettes are located in the main temple of the republic, "Tsechenling". Until November 9, all those who wish to do so can visit the main hall of the temple, where the statuettes are exhibited.
As Tuge Rinpoche remarked, "People who will see the statuettes and also ask for blessiongs, can purify their karma, which will have a very positive effect in their future. It is also possible to ask for blessings for their relatives. Special merit is in store for those who contributed help, by which they increased their good karma many times."
The doors of the khuree are open every day for all those who wish to come. In the next few days, special rituals and prayer ceremonies will be held.