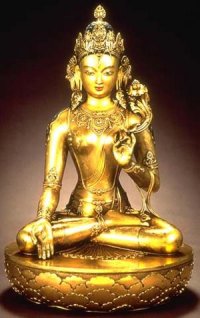 On September 1, 21 statues of Goddess Tara, who is especially venerated in the Buddhist world, were delivered to Kyzyl. Green Tara has a female maternal core, and is always ready to come to those who are seeking consolation or need help. The statuettes were casted in Nepal, as it was arranged by Lama Tuge Rinpoche. During the process of their manufacture, special rituals were performed to enable the "enlivening" or vivification of the statues, as well as investing them with beneficent powers.
The work of the Nepal craftsmen was curated by Kherel-ool Ayan, a student of the university of astrology and medicine "Metsikan". The work started on March 8 and was concluded on August 8. By the way, this was the same place where 1000 statuettes of the Buddha were made for "Ustuu-Khuree" temple, as well as statues for the new khuree in Kungurtug.
The cargo did not arrive in Tuva right away because of a delay at the customs terminal at "Domodedovo" airport. The monks could not pay the high customs fees. Collections were taken up in Tuva and in Moscow. The staff of the Embassy of the republic in the Russian capital helped to free the cargo from the customs office and to forward it to Tuva.
The statuettes are destined for the "Green Tara" khuree which is under construction in Kaa-Khem settlement. Literally in days, construction of two dugans ( prayer chapels) was started. After the construction of the temple is finished, the statues of "21 Taras" will take up their permanent place of residence.
"The statues of "21 Taras" are a priceless gift for the people of Tuva. People can touch them and request help for themselves and their near ones, - emphasized the author of the project of the temple "Green Tara", Ayas Kherel-ool (Lama Losel). – The Green Tara, as a symbol of female maternal love helps those who seek consolation and help. We hope very much that the construction of the khuree will be finished shortly, and the Buddhist deities in the image of 21 Taras will be soon able to help the people. Using this opportunity, I would like to thank the people of Tuva for the help they showed".
Together with this cargo, another astonishing present arrived. The foundation "Save Tibet" and the society of "Kalmykia – Japan" friendship sent comics books by the Japanese artist Tetsu Saiwai, dedicated to the life and activities of his Holiness the Dalai-Lama XIV. Fourteen sets of the books have been sent to the libraries of the republic, and the rest have been distributed for free throughout the kozhuuns and khurees.
The site of Tuvan Buddhists notes that part of the money for the customs fees had to be borrowed. More money is needed to finish the construction of the temple. The administration of the site requests help from the Buddhists of the republic.