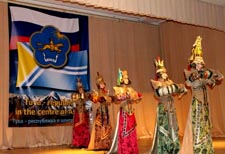 On March 1 – 3 in the Russian Center of Science and Culture in Helsinki, a presentation of the program "Regions of Russia. Republic in the center of Asia – Tyva." Republic Tyva is located right in the center of Asia, as evidenced by the obelisk "Center of Asia" in Kyzyl, the capital of the republic. The traditional culture of Tuvans is a culture of nomads. On March 1, the opening of the exhibitions tookplace: black and white photographs "Tuva in the early 20th century" (author V. Yermolayev); "Archeology of kurgan "Arzhaan-II" of the Scythian period"; souvenirs and national Tuvan costumes; "Religions in Tuva" – ritual paraphernalia of shamanism. Afterwards, a concert was performed on the stage of RCSC. The head of the consulate, T.S. Kleyerova welcomed the Tuvan guests and the audience.
The guests brought a unique and multifaceted cultural program to Helsinki. There was a brilliant performance of Tuvan folk dances ("Uriankhai", "Mystery of Asia", "Khomus").
There was a theatric show of contemporary Tuvan stage costumes, which was performed by the young members of the ensemble 'Edegei", a laureate of innumerable international contests. The program also showed scenes of "Shaman's kamlanie", "Mandala", "Kann-Kys", and others. Magnificent costumes and artistic patterns, created by inimitable plastic movements conquered the audiences!
The spectators also witnessed a mysterious shamanic ritual "Bear Spirit", to "attract success and inspiration". The ritual was performed by the shamans of the "Adyg-Eeren" shamanic association.
The pearl of Tuvan culture – traditional throat-singing, was introduced by the magnificent ensemble "Khogzhumchu". The technique of the singing, where the performer produces sounds not just by vibrations of vocal cords but also by contractions of the throat, produces basic pure melody and overtones. This is an ancient way of human communication with the surrounding world, which originated as imitation of the sounds of nature. Each number brought forth sincere reactions of rapture by the Helsinki public.
On March 2, a jam-session of musicians from Tuva and Finland took place. The session proceeded in a free format. There were many who wanted to learn the technique of throat-singing. On March 3, the members of the "Khogzhumchu" ensemble held a workshop in Tuvan throat-singing. Throat-singing enthusiasts from Finland, Norway and Russia participated in the work.
Afterwards the exhibitions were closed, and the guests departed on their scheduled itinerary. They will give joy by their performances in Poland, Germany, Austria, Belgium, France, and Spain, where the exhibitions and concerts will be organized by the colleagues from Russian Centers of Science and Culture located in the respective countries.