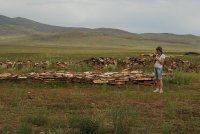 On June 26, at 14 hrs., participants of the "Tos Ertine" (Nine Treasures) contest, teachers from Tarlag school Svetlana and Dolaana Kyzyl-ool along with their students, in co-operation with the directors of museum-preserve "Valley of Tsars", will introduce an excursion "Etiquette of the Yurt" to connoiseurs of history and exotics. This tour offers bow shooting and horse rides. "We have reached the second stage of the "Nine Treasures" contest, and now we wish to introduce a proposed tour of our contest entry "Valley of Tsars", which is a unique treasury of Scythian history," - says Svetlana Kyzyl-ool.
Remember that altogether 239 objects were submitted into the contest, and 110 of these were selected by the Expert Council; these are now being described by journalists during press-tours. Actions associated with arranging the entries continue until August 20, as well as contests of proposed tourist excursions involving the "Treasures".
Media and Internet voting will take place in the fall. At the conclusion of Year of Tourism, a Catalogue and Map of attractions, "Nine Treasures" will be published.