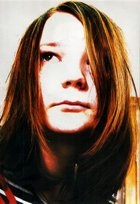 22 year-old journalist, a graduate of Moscow State University, Nadia Antufieva received a special prize "Nadezhda Sibiri" ("Hope of Siberia"), at the forum "Yenisei RF", which just transpired in Krasnoyarsk. The jury noted the series of interviews by Nadia Antufieva, which were published in the magazine "Center of Asia".
The forum in Krasnoyarsk Krai brought together more than 400 journalists from the most varied parts of Russia. As the organizers emphasize, "such a venue for discussions and exchange of experiences will generate development and modernization of the information space of Siberian federal sphere, and will become an annual place of congress of professional journalists of the entire Russia".
As Kheimer-ool Oorzhak, the chairman of the Union of Journalists of Tuva informed us from Krasnoyarsk, another Tuvan journalist– Sayana Salchak, editor of radio GTRK "Tyva", was also noted. She became the winner in the category "Healthy society".
The winner of the prize "Nadezhda Sibiri" writes under the name "Nadia Antufieva" to prevent creative confusion with her mother Nadezhda Antufieva the Older, who is the chief editor of the magazine "Center of Asia". Nadia graduated from Kyzyl Lyceum No.15 (class leader Galina Strashkova). This is not the first award in journalism in Nadia's biography.