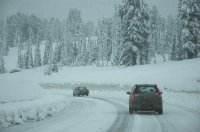 Anomalous cold weather with thirty degree (centigrade), and in the north of Krasnoyarsk Krai and Irkutsk region even 40 degree cold is expected in the next few days in practically all the regions of the Siberian federal area, as the Emergency services announced.
"On territories of Krasnoyarsk Krai, republic Khakassia, and Irkutsk Region, there is a possibility of emergency situations of municipal character on December 10-12, occasioned by failures of energy delivery and transportation, because of the strong cold, - as was announced on Friday by the Siberian regional center.
According to the authorities, in the next two days, the northern and central regions of Krasnoyarsk Krai will have abnormally cold weather with temperatures from 35 to 50 degrees centigrade below freezing point.
In the south of Krasnoyarsk Krai and in Khakassia, the thermometer readings will be around 30-35 degrees.
In Irkutsk region, on 10-12 December, the temperatures are also expected to drop to minimal temperatures of minus 37-42 degrees, and in northern districts of Upper Lena, to minus 47-52 degrees.
Storm warnings were declared in Novosibirsk and Tomsk regions, where on 12-14 December , anomalous cold weather is expected, with minimal air temperatures of minus 30-36 degrees. Similar cold is going to be in Tuva on December 12. Tuva experienced sharp drop in temperatures over the past 2 days.
The rescuers warn that in connection with the cold weather, the regions could experience emergency situations caused by disturbances in transportation, communal services, and system failures of energy delivery. There may be fires and cases of people freezing to death.
Emergency requests people to be especially careful when venturing outside during these days, and to pay attention to dressing in appropriately warm and comfortable attire and footwear.
"The best approach is not to leave warm indoors premises unless it is absolutely necessary. The same goes for automobile drivers. Beside that, drivers should not set out on prolonged trips if possible", as the rescue warns.