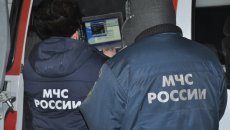 A 9.0-magnitude earthquake that hit the southern Siberian republic of Tuva on Tuesday caused no damage or casualties, a spokesman for the regional Emergencies Ministry said.
"Everything is all right. Our dispatchers work round the clock and they did not receive any calls on any destruction," the spokesman said.
One of the local citizens residing on the 9th floor of a multi-storey residential building said everything was shaking so intense that the wardrobes in his apartment were about to fall down.
According to the geophysical service of the Russian Academy of Sciences, the epicenter of the quake was registered at a depth of 10 kilometers (6.2 miles) some 120 km (75 miles) to the east of the city of Kyzyl at around 11:20 p.m. local time [15:20 GMT].
The ministry's spokesman also said that local residents were warned about the possibility of aftershocks and were advised to leave their homes.
A spokesman for MRSK Siberia power grid company said that power supplies in the region were not damaged by the quake.