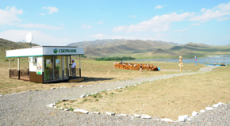 The first mobile solar-powered ATM has been installed in the Siberian region of Tuva, with many others looming. A solar-powered ATM looks like a regular cash dispenser; the only difference is that it draws energy from 16 solar batteries fixed on its roof.
The first of its kind in Russia, it is set to provide a major archeological expedition organized by Russia's geographical society, which is operating in Tuva, with banking services. As the expedition moves along its planned route the ATM will be moving with it.
For archeologists who are excavating in the Tuvan Tsar Valley along the future route of the Kyzlyl-Kuragino railway branch this service is quite in demand. Here students from over 20 countries work during the summer season.
The solar batteries for the ATM were produced in China and then assembled in Novosibirsk. The construction cost about $4,000. Its inventors hope solar-powered ATMs will gradually make bank operations available in every corner.
Solar energy has been used in Tuva for years, due to high electricity costs and a decentralized power supply that affects about 30 percent of the territory.