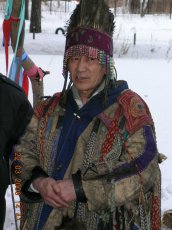 One of Tuvan shamans most in demand in the West - shaman from the "Dungur" (Drum) association, Dugar-Syuryun Ochur-oolovich Oorzhak returned to the republic after a series of seminars in various cities of Austria. He introduced Europeans to the shamanic practices from center of Asia. Dugar-Syuryun Oorzhak, a participant of two main shamanic events of Tuva - an international Symposium, which took place in 1993 on the joint initiative of the Finnish scholar Leimo Lappalainen and the chief investigator of Tuvan shamanism Mongush Kenin-Lopsan. He was among the organizers of the international forum of researchers of shamanism which took place in Tuva in 2003 on the occasion of the 10th anniversary of the first international symposium. At that time, kamlanie rituals were performed on the sacred Mt. Khaiyrakan.
Dugar-Syuryun Oorzhak is among the shamans who make all their own equipment for kamlanie, and hunts for the skins for the drum. His shaman's costume weighs over 15 kg.
People come to his cabin on the bank of Yenisei for advice, help, rituals for prosperity, spiritual growth, or to bring back health.
Dugar-Syuryun Oorzhak is most often invited by childless couples who would like to have a child. After shamanic rituals which he performs, many of them have children. There are dozens of babies who came to this world thanks to Dugar-Syuryun Oorzhak's help not just in Tuva but in Europe as well.
On 26 October, the shaman turned 64.
Dugar-Syuryun Ochur-oolovich Oorzhak was born in 1948 in Kydyy-Shurabulak not far from Ergi-Barlyk sumon in the family of arat Oorzhak Ochur-ool Belek-Baiyrovich.
His mother - Bichi Burbuyevna, born Khomushku. Her father was a prominent lama, the only Tuvan who worked at that time in Buryatia at the Ivolga Datsan.
Ochur-ool and Bichi had eight children - 4 boy and 4 girls; Dugar-Syuryun was the oldest one.
His paternal grandfather - Oorzhak Dongak Shokar was a great shaman (Ulug Kham) of Barun-Khemchik kozhuun. He could perform any shamanic ritual; memorials at 7th and 49th day after death; rituals in honor of water fire, trees, mountains, and mountain passes, as well as healing rituals. He knew the art of divination, charms and bone-setting. At the same time he was involved in a "shamanic war" with shamans of other localities: Bai-taiga, Choon-Khemchik, Sut-Khol, Ulug-Khem, Tan-Dyy, Kaa-Khem, Bii-Khem, Erzin, Tes-Khem and others.
In 1937, Dongak Shokar was repressed and sentenced for 8 years, after which he returned to Kydyyy-Shurabulak.
Dugar-Syuryun was attached to his grandfather Shokar since his childhood, was present at all the rituals, which were then performed in secret. The shaman, foreseeing that the shamanic gift will develop in his grandson in the future, taught him a bit of everything, including drawing. Because of his close relationship with his shaman-grandfather, Dugar-Syuryun was not accepted in the children's October organization, and later into the Young Pioneer organization and Komsomol.
In 1955, Dugar-Syuryun entered the first grade of the village school in Barun-Khemchik kozhuun. In 1957 his grandfather Dongak Shokar died. Immediately after finishing school in 1966, Dugar-Syuryun Oorzhak started as a teacher of drawing at the No.2 school in Kyzyl. One year later he was still working a s a drawing teacher, but in Ergi-Barlyk middle school.
After serving in the army, in 1970 he entered Frunze art college. From 1975 to 1990 he worked as the chief artist of Tuvan State V. Kok-ool Theatre of Music and Drama.
In 1990 he opened the first Buddhist association in Tuva on the right bank of Yenisei, and became its chairman until 1993. In the same year he took an active part in the opening and registration of the First association of Tuvan shamans "Dungur", with ethnographer and shamanologist Mongush Borakhovich Kenin-Lopsan as the president.
Dugar-Syuryun Oorzhak was the chairman of this association.
At the first International Symposium of Shamanism, the first connections between Tuvan shamans and their colleagues from abroad were established. In 1998, there was a tour to hold seminars in Bulgaria in Staroye Zagorie.
In 2002, 2004 and 2006, he took part in various International congresses for study of shamanism in Istanbul, Turkey.
In 2005, there were shamanism seminars in Ulangom, Mongolia.
Since 2007, as a practicing shaman, Dugar-Syuryun Ochur-oolovich Oorzhak often travels to Switzerland, Germany, Austria, France and Czech Republic.
In 2008, in the year he turned 60, Dugar-Syuryun Oorzhak received the title of Merited culture worker of republic Tyva.