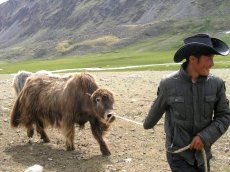 A journey
In southwest Siberia in Tuva, between Mongolia and Altai, the mountain massif Mongun-Taiga spread its shoulders - the mountain ridges, glittering with glaciers of the Silver Mountain. It is a harsh land of wind-blown high-altitude meadows, stony slopes and icy rivers. Only strong and tough people survive here, Tuvans of Turkic roots, living a nomadic life with their herds of sheep and yaks. They are kind to their guests, but guests are rare - it is not an easy road to the remote mountain pastures. But those who had made the trip fell in love with the simple beauty of its wild nature and the people living in harmony with it.
Mongun-Taiga kozhuun, one of the most beautiful and mountainous districts of Tuva, is located in the south-west of the republic. It is named after the tallest mountain of Tuva, which is visible here from anywhere - Mongun-Taiga, with the altitude of 3970 meters (@13,220 feet). The name speaks for itself - Silver Mountain, as the glaciers covering it glitter in the sun.
Tuvans are hospitable, but they rarely have a chance to show this hospitality. After all, few people can survive the long and hard journey to their encampments.
In the past this area was a part of Mongolian Altai, in the middle of the 20th century it was ceded to Tuvan people's Republic, and then, together with Tuva, it entered the system of USSR.
The word "taiga" is from Turkic language, and does not mean a dark evergreen forest, as we are used to thinking, but, on the contrary, for Turks it means mountains, often without forests or only sparsely forested. But Russian Cossacks, who settled Siberian expanses, used the word for forested valleys along rivers and streams at the foot of mountain massifs. In that way, in Russian language taiga came to mean first of all a forest consisting of spruces, larches and pines. Here, in high-altitude steppes, meadows and stony slopes of Mongun-Taiga, sparse forest grows only in the valleys of roaring, cold rivers.
This district so inhospitable to live in is not densely populated: about six thousand people are concentrated in two settlements - Mugur-Aksy and Kyzyl-Khaya, and in nomadic encampments on high-altitude pastures. People for the most part live by reindeer-herding and breeding of sarlyks - yaks. Sarlyks - the pride of Mongun-Taiga - give milk, butter, cheese, meat and wool.
To see the life of the herders and their families, who have the largest herds of sarlyk, was the main task of this trip to an area so remote from large towns.
To get there was complicated and difficult. By plane to Abakan, then by car to kyzyl, then by "UAZ" for another 7-8 hours on a dirt road to Mugur-Aksy. But the settlement was not the goal, we went on to the mountains, as far as possible for people used to roadless conditions in Russia, then another five short hours on horseback to the mountain pastures. At times it was frightening to ride above precipices, feeling the hoofs of the horse, carrying me and my belongings, slipping on the loose scree. My knees, not used to horseback riding, hurt nastily. It was not easy to ford the shallow, rapid mountain rivers. After this 24-hour long, uninterrupted trip from Moscow to the mountain encampment, it was only the smiles and hospitable welcome by the herders that kept me from toppling over from exhaustion.
Sheep are the foundation of prosperity of the local population, and that is why they very scrupulously look after the well-being of their charges.
In Tuva there are families of herders who have more than 1000 heads of various types of livestock; they are called "thousanders". The owner of the first stop - Arina - is a "thousander". She has 1300 heads of sheep and goats, and 54 sarlyks, of whom more than 20 are dairy cows. I can't figure out to this day how she manages to take care of all of this, but somehow she can. Her husband died several years ago, and Arina was left alone with her aged, weak father. Adjacent to the winter camp - a tiny log hut, there are wide expanses of pasture slopes, paddocks for livestock nearby. Getting up before dawn, as a photographer should, I met Arina already at work - milking sarlyks. When I went to sleep long after sunset, I saw Arina still at work. I asked her whether she got tired - she did not know what tiredness was, it is simply her life. A soft smile never leaves her face. She shows me the lambs - she is full of joy, she serves me pelmeni and glows. She serves tea with milk - drink, and the bowl is full again right away. At home, everything is clean and cozy, and there is always araka for the guests.
A special word about araka. In every yurt, they make milk vodka - araka. They allow yak milk to sour thoroughly, put it on the stove, and cover it with a special cylinder (shurun); on top of this goes a basin of cold water, to make the vapors in the shurun condense and drip on a flat collecting vessel with a canal leading out. Outside, there is a vessel which becomes full of fresh araka. The beverage is not very strong, about 15-20% alcohol, they drink it from a full bowl, then fill the bowl again and send it around.
Tuvan solarium: suntan absolutely for free
In the two days as Arina's guest I gained a few kilograms of body weight. Fresh mutton, sarlyk cream, homemade bread - everything was unusually tasty. And back on the road. Horses, fords, "UAZ", scree-covered slopes, "UAZ" slipping and sliding downwards, chill of fear. Difficult, occasionally dangerous and hazardous trail. But there are no other roads. One time the satellite phone saved us, calling for help when we were freezing on a mountain pass at night with car out of order. On the way we saw a boarding school settlement for children of the herders, it was built by several families together, who formed a farming co-operative. Then another "thousanders" family, this time a large one, and again a warm welcome and delicious food. And again the road. We overnight in a tent - towards morning, my feet were frozen in the sleeping bag; then in an old log hut, where all the warmth disappeared through the many holes in the wall within one hour.
Then we get to the next stop - lake Khindiktig-Khol. At the altitude of about 2400 meters (7992 feet), at the border with Gornyi Altai, is a large lake astonishing with its blueness. Its name translates from Tuvan as "navel lake" because of two islands. In the lake, one can fish for small but delicious kharius (salmon-like fish). The wind is always strong here, and to catch a quiet moment, to photograph the beautiful reflection of the high mountain in the lake was a rare success. I made it - the silence smiled for altogether five minutes, but it was at the necessary time just before the sunset. And then, in the whole 24 hours at the lakeside, there was not another windless moment.
As I wrote this, I caught myself thinking that the time I had for this trip was way too short. I think about the other things I want to photograph, and how, what I did not get to do or it did not work out the first time. A good reason to come back again, to see the pleasant faces of friends , give them the good photos as presents and work some more - new faces, new landscapes. Tuva is astonishingly multifaceted and rich in interesting subjects for travelers - photographers.