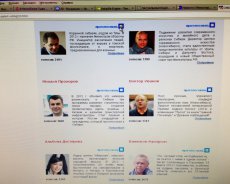 According to the results of internet voting, which took place from 19 to 28 March on the portal sib21vek.ru, out of 39 nominees to the title of "Siberian of the Year" , the greatest support went to Aldar Ayusheyev (6112 votes), Pavel Veretelnikov (6020), Evgeniy Epov (5592), Natalia Techinova (5375), Natalia Vorobieva (5288), Denis Donchenko (5257), and Andrei Panin (5245). These seven are now recognized as winners of the contest.
The last day of the voting was decisive; when Tuva could not reinforce the internet support for their representatives, and the other regions really went for it and organized a whole serious campaign to help their compatriots-nominees.
Segei Shoigu received 5228 votes, and Mikhail Oyun - 4292.