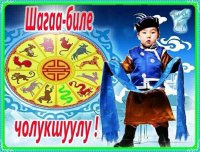 Shagaa, the Lunar New Year will be welcomed in Tuva with the first rays of the sun on 21 February. The Administration of the Kamby-Lama of Tuva presented this date as a holiday to the Supreme Khural. The regular session of the Supreme Khural (parliament) of Republic Tyva approved the Supreme Khural Decree "Concerning the day of Shagaa observation in 2023".
The coming new year wll be the Year of Watery Black Rabbit.
Remember that the day of a new year start by Oriental calendar is a floating date. It is determined each year by lamas-astrologers. It may not correspond to the date of New Year in the countries of Asia-Pacific region or in China because of different astronomical calculations.