The culturally rich sound of throat singers is rarely heard in the United States, but it will be heard in Half Moon Bay this week, announces 'Half Moon Bay Review'. On Wednesday evening, Oct. 26, a handful of the members of Chirgilchin, a group of musicians from Tuva, will perform their haunting, mesmerizing music at the venue of Coastal Repertory Theatre. Joined by didgeridoo master Stephen Kent of Oakland, they will perform traditional folk songs and chants of the region.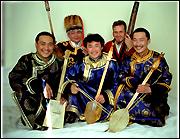 "This is an opportunity to hear these very unusual and award-winning singers," said Half Moon Bay resident Greta Hryciw, who is organizing the concert.
Hryciw, an accomplished musician on the recorder, first brought her friend Kent to the Coastside to perform in a Feb. 13 concert to benefit Allyson Anthony. Anthony is a San Francisco resident and regular supporter of CRT who was battling cancer. (She is stabilized now, Hryciw said.)
Since his visit was "received with wild enthusiasm," she has brought him back, to share the stage with the Chirgilchin musicians. Half Moon Bay is one stop on a tour of the United States that the group - about four Tuvan throat singers plus Kent - are now making. The group is calling itself "Karashay."