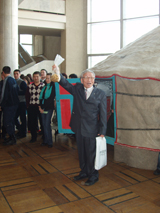 Moscow-based Tuvans greeted Shagaa two weeks later after the New Year according to the Moon Calendar was celebrated in Tuva. The tradition of the New Year festivities which was regular in the Russian capital in the old times were interrupted in 2004 after a large-scale Tuvan Shagaa was held in in the All-Russian Exhibition Centre. Thus it was long awaited and attracted hundreds of Tuvans of all ages.

This time it was hosted in the House of Culture of the Autoplant ZIL. In the foye a wide range of Tuvan traditional dresses, souvenirs, jewellry,s tone-carvings was on sale. A yurt was set up on the second flour where hot white tea was offered to the guests.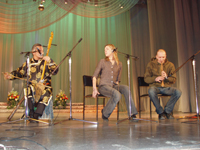 Among the Tuvan stars who performed in the concert were Nadejda Kuular, Anatoli Kuuar and 'Va-Ta-Ga' group (Karelia), Kongar-ool Ondar and 'Alash', 'Saizyral' dansing ensemble.