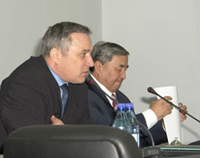 Anatoli Kvashnin, a long-awaited in Tuva official, respresenting Vladimir Putin in the Siberian region, finished his 3-day-visit to the republic in the centre of Asia. On the last day of his trip he was to meet representatives of the Tuvan intelligentsia which were thouroughly sifted for this meeting by the Tuvan Government. Those, who were not let in, managed to pass over a note to Putin's Ambassador. Kvashnin got furious and ordered to open the doors. Kvashnin spoke of his impressions of the republic, saying that a dreamed-of railway is not a panacea for the Tuvan economics, that Tuvan officials should support small businesses which do not develop.

He made straighforward remarks in regard to the political conflict of the 2 branches and did not side with either of the parties, speaking arrogantly both of the parliament as 'chatterboxes' and of the government.

He spoke of the low educational level of the local authorities which have very vague ideas of the self-governance legislature in Russia.

The intelligentsia has slpit into two part of those who liked thes straight estimations of the Tuvan realities and those who did not like Kvashnin sun-drowner's remarks very hurting to the Tuvan ear.