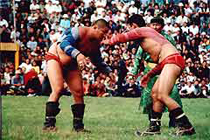 August, 15 was 'khuresh' day--it's considered to be the climax of the national festival. Khuresh Stadium, where the main wrestling competition takes place, was overcrowded. There was little hope that there would be a tense fight for 1st place, as Ayas Mongush has proven to be invincible for the last 14 years.

His reign of victory began when he was 18 years old and he remains undefeated. His title in the Republic is Amyrga (Hercules). The tournament was kicked off with a collective eagle dance, followed by 5 hours of non-stop fighting. Of the 256 wrestlers, 12 were guests from Mongolia. The final turned to be an international one, in which Ayas defeated a Mongolian wrestler. A questionable victory (some of the witnesses state that Ayas was the first to touch the ground) was unanimously recognized by the jury. A great ovation followed, with the spectators yelling, "A-yas! A-yas!".

The 15 time Naadym winner was awarded with a Zhiguli automobile. The two final wrestlers then took the car for a victory lap around the stadium and then took the flag of the competition down. They were then surrounded by spectators who wanted to get their pictures taken with Ayas.