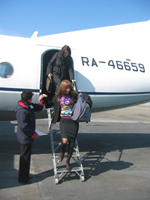 On April 24, 2009, Flight SL 2037 opened on the route Novosibirsk - Abakan – Kyzyl, which will fly twice a week.
As announced by "FederalPress" in the press service Interregional association "Siberian Agreement", such an extraordinary event as establishing a new air route in the period of economic crisis was necessitated because over the past few months, practically no interregional flights to Tuva remained active.
"Airplane An-24 will go from Novosibirsk to Abakan and Kyzyl on Mondays and Fridays", announced "FederalPress". "The return flights will be on Tuesdays and Saturdays. The cost from Novosibirsk to Kyzyl will be 6,400 rubles; the partial route, Novosibirsk to Abakan will be 4,900 rubles, and Abakan to Kyzyl 2,500 rubles."
The flight was established thanks to the efforts of the Interregional association "Siberian Agreement", department of transportation of administration of Novosibirsk region,, Airline "Novosibirsk-Avia", OAO "Aeroport Tolmachevo", Ministry of roads and transportation complex and connections of Republic Tuva, OAO "Aeroport Kyzyl". Ministry of transportation and road upkeep of Republic of Khakassia, and OAO "Aeroport Abakan".
The first airplane of the new flight "Novosibirsk - Abakan - Kyzyl" which landed on April 24, at 10:55 am local time at Abakan airport, was welcomed with an orchestra.
The passengers were a few, but they were all very pleased with the flight.
The Kyzyl airport is now all set for external flights four times a week.
Since April 10, there are also flights on the route from Kyzyl to Krasnoyarsk and Novosibirsk on Tuesdays and Fridays.
AS the minister of roads and transportation complex and connections, Oleg Saaya explained: " The flights will go in any event and with any number of passengers, as the head of "Novosibirsk-Avia", Igor Borodiy, reassured us".
OAO "Novosibirsk-Avia" is an airline based in Novosibirsk, which was established in 1929. The main work profile of the company is transport of passengers, baggage, mail and cargo.
"Novosibirsk-Avia" was reorganized to OAO in August 2005 in consistence with the plan of external regulation of former FGUP of the same name; the OAO received the airport building and several airplanes.
In winter 2008-2009, the company has been performing regular flights in airplanes An-24 from airports of Novosibirsk to Krasnoyarsk, Nizhnevartovsk, Noyabrsk, Novyi Urengoy, Nadym, and Salekhard.