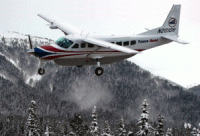 Airline "Tomsk Avia" is planning to begin performing regular passenger flights from Tomsk to Novosibirsk, Gorno-Altaisk and other Siberian cities with a light Cessna 208B Grand Caravan airplane in 2013. The flight weight of this airplane is less than 4 tons, and it can take nine to 13 passengers, as the airline's press-service informed NIA Tomsk .
Tomsk airport received the permission to accept airplanes of this type last week, after which the first test flights to Novosibirsk and Gorno-Altaisk took place. The uninterrupted flight time from Gorno-Altaisk to Tomsk took two hours.
"Regular passenger flights to Gorno-Altaisk from Tomsk and Novosibirsk are now planned to be scheduled four times a week (Monday, Wednesday, Friday and Sunday). According to preliminary estimates, the fare in the direction Tomsk - Gorno-Altaisk and Novosibirsk - Gorno-Altaisk will be 5,500 rubles one way, including all fees. Later, the price of the ticket may be reduced because of subsidies by Republic Altai in the framework of a program of development of interregional transport", - as the airline's press-service announcement states. The press-service does not state when the sale of tickets to Gorno-Altaisk and elsewhere is to begin.
"In 2013, the airline is planning to perform regular and charter flights on BC Cessna Grand Caravan 208B inside the Tomsk region, as well as on routes Abakan, Novosibirsk, Gorno-Altaisk, Novokuznetsk, and Kyzyl," - the official site of "Tomsk Avia" states.
The Cessna 208B Grand Caravan has a wide range of use all over the world: passenger transport, rescue work, forest protection aviation, aerial photo- and video shoot.
"The priority direction for activity of stockholders and leadership of OOO Airline "Tomsk Avia" for 2013 is to perform flights on BC Cessna Grand Caravan 208B inside the Tomsk region, initiation of aviation communications connecting the regions with the capital of the Siberian federal district," - "Tomsk Avia" states.