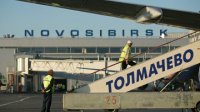 Regular regional flights from Novosibirsk to Novokuznetsk (Kemerovo region), Kyzyl(Tyva) and Abakan (Khakassia) will start in the summer of this year.
"One of our biggest directions which was developing successfully in 2010 is regional transport. we opened flights to Tomsk, Omsk and Gorno-Altaisk. We are planning to open flights to all the subjects of Siberian Federal circle by the end of this year, or by the next spring of next year", announced the general director of Novosibirsk international airport Tolmachevo, Alexander Borodin, to the journalists on Monday.
He remarked that the flights to Novokuznetsk, Kyzyl and Abakan should start close to this summer. "In order for this to be advantageous to the airway companies, the airport adopted ways of decreasing the costs for the companies. These are discounts which we registered in the anti-monopoly service, we took over the advertising for the companies, and by this we equalized the risks," - said Borodin.
He noted that currently the authorities in many Siberian regions are working out the questions of subsidizing the regional transport, and the first one to do this will probably be Altai.