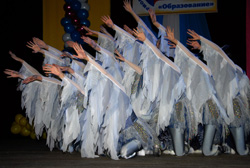 The children's choreographic ensemble "Alantos" (leader Raisa Stal-ool) celebrated the 15th anniversary of its founding by a jubilee concert. Today, it is not necessary to translate its beautiful name even beyond the borders of this country. Alantos is a species of lily that blooms on the Azas lake in unknown and beautiful Tuva. And its beauty, grace and fragility has been expressed for years by young ballerinas from children's choreographic school of Kyzyl.
Remember that "Alantos" won the right to perform in the cultural program of the Olympics in Sochi, having won the Grand-Prix at last year's, 2008 , International Competition-Festival "Golden Chalice". More than 500 young artists from all regions of Russia participated. "Alantos", the only children's ensemble of classical dance in Tuva, was founded on the basis of the Children's Choreographic shool of Kyzyl in 1993, on the initiative of Raisa Stal-ool, a fraduate of St. Peterburg university of Culture and Arts.
The ensemble tries to preserve the academic school of Tuvan choreography, and to educate a creatively thinking young generation with rich imagination and inner culture by the means of arts, explains Raisa Stal-ool.
Last year the ensemble received a Grant from Chairman of Government of Republic Tuva for production of children's ballet "Cipollino".