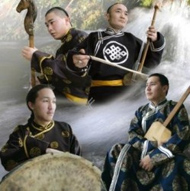 In Ulan-Ude, Buryatia, the 4th International Festival-contest of throat-singing, "The Breath of the Earth" just took place.
Throat singers from Khakassia, Tuva, Altai, Khabarovsk and Trans-Baikal regions, Irkutsk region, Buryatia, and Mongolia participated in the contest.
Diplomas of th 1st order were received by Yevgenii Ulugbashev (Khakassia), and the Tuvan folklore group "Arzhaan" (Tuva, leader Opuyla Artysh), as the information portal "Baikal24" announced.