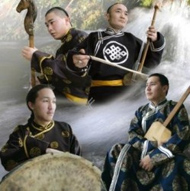 In Ulan-Ude, Buryatia, the 4th International Festival-contest of throat-singing, "The Breath of the Earth" just took place.
Throat singers from Khakassia, Tuva, Altai, Khabarovsk and Trans-Baikal regions, Irkutsk region, Buryatia, and Mongolia participated in the contest.
Diplomas of th 1st order were received by Yevgenii Ulugbashev (Khakassia), and the Tuvan folklore group "Arzhaan" (Tuva, leader Opuyla Artysh), as the information portal "Baikal24" announced.
Diplomas of 2nd Order were given to the duet "Harsuld" (Mongolia), and Amgalan Sanzhizhapov (Buryatia).
Viktor Zhalsanov (Moscow) Oyungerel Chulyynbaatar (Mongolia), and Aleksandr Arkhincheyev(Buryatia), became Laureates.
In the ar of group throat singing, the ethno-group "Khosogton", with the leader Ariunbold Dashdorj from Mongolia had no equal, they won the Grand-Prix of the festival.
Special prize "For faithfulness to tradition" was awarded to the folklore throat-singing group of th State National Theatre "Amar Sayn", with the leader Leonid Babalayev, from Trans-Baikal region, Aginsk district, Aginsk.
Diplomas "For experimental performance" were awarded to Leonid Budayev, Irkutsk region, Ekhirit-Bulagatskii district, Ust-Ordinsk , and Tserendavaa Tsogtgerel, Mongolia.
Remember that the student group "Arzhaan" is a professional team, which is amply confirmed by their victory at the festival "Russian Student Spring-2009".
Concerts of the group "Arzhaan" are rare. There is no other similar group in Buryatia. Andit is not just because the members of this group are natives of Tuva. The work of "Arzhaan" is absolutely free of any "souvenir" qualities, they are absolutely real, sincere and filled with energy. They are filled with live Nature, which has not been killed by routine and commercialism. Their eyes shine, and they love what they play. That is whi for those, who value purity and natural organic expression in ethnic music, not just exotics for tourists, "Arzhaan" really is a spring of pure water in the true sense of the word.
Theis group was first noted about one year ago. Tuvan students of VSGAKI formed this group named "Arzhaan" which in translation means "Sacred Spring", to perform at the festival "Stars of the White Moon".
The kids prepared a new program for their solo concert. The musicians demonstrate the origins of throat singing with the help of sounds of nature, and unique national, ritual instruments.
"Arzhaan" performs national Tuvan songs which were never before heard on stage. Beside that the Tuvans also sing Buryat national songs as the declaration of their love for Buryatia.