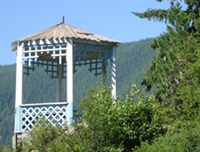 Tuvan spa Ush-Beldir (Triple confluence), located in a difficult to get to eastern taiga part of the republic, 360 km from Kyzyl, won a Gold Medal in an interregional competition "Gemma-2009", which just took place in Novosibirsk.
Among the best products and services of Siberia, the spa exceeded the famous "Krasnoyarsk Mountains" and "Shira".
"Especially the effectiveness of the healing was evaluated, not the material basis", Mira Opeyen, the head doctor, explains the sensational success of the Tuvan spa.
Despite infrastructural problems, the balneologic spa, which opened in 1933 at the elevation of 1127 meters above sea level, won great popularity by its healing methods and means not only among Siberians. The spa is connected with "Greater Tuva" only by air.