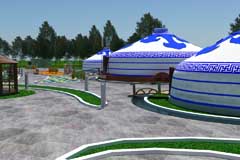 Two yurt-towns, "Mongun-Bulak" (Silver water spring) and "Aldyn-Bulak" (Golden water spring) will be built in Tuva this year, which was declared to be the Year of Tourism in the republic.
The head of the republic, Sholban Kara-ool, announced this in an interview with local journalists on the eve of New Year.
The presentation of the project of the ministry of culture and tourism of RT took place on January 20. The project involves two yurt complexes intended as stationary campings for travelers.